The final tournament of this Triton Series Special Edition reached its half-way point tonight, with players enjoying one last chance to work towards earning a Triton trophy. The game was short deck, with players aiming to dethrone Phil Ivey who won the latest short deck event earlier in the day.
Registration remains open until the start of play tomorrow, but we have already seen 39 entries into the tournament, including 14 re-entries, and so we're set for one more big payday tomorrow.
The buy-in for this one is $75,000 — a reduction on the initially advertised $125,000, after players requested this slightly smaller level of play. That's probably because they know they have a full schedule on the Super High Roller Series Europe to play over the coming week, and we'll be sharing the tournament room with our temporary collaborators tomorrow.
There's a $25K PLO event kicking off that festival, while we'll stay focused on the conclusion of the $75K short deck.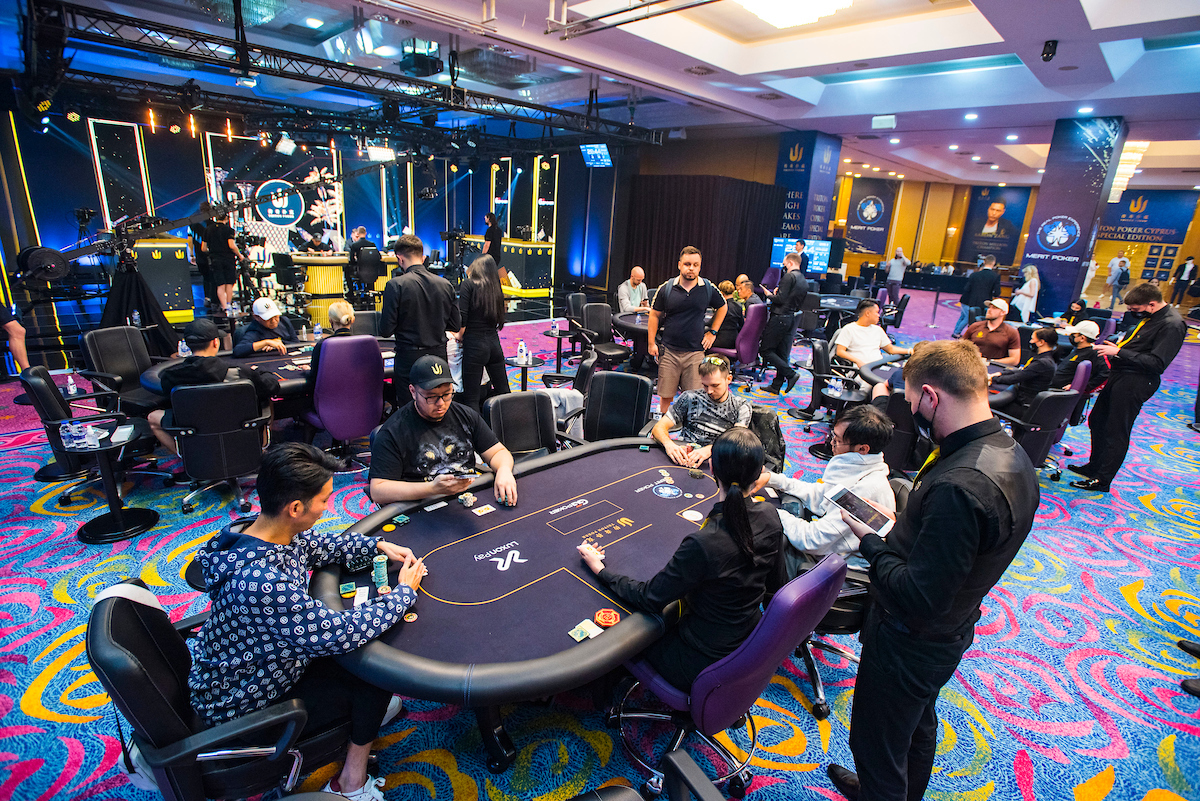 The stack sizes for the remaining 20 players are as follows. As you can see, Seth Davies rose to the top today, and became the only player in the room with a seven-figure stack. The American has had a relatively quiet Triton Series so far, but has been studying his short deck game recently, which pair dividends tonight.
The Malaysian trio of Wei Hsiang Yeu, Lun Loon and Ivan Leow all follow Davies. They have short deck in their blood.
A buy-in will get you a stack of 300,000 chips if you want to buy-in any time before the resumption at 1pm tomorrow. Antes on the resumption are 6K-12K, so you'll have 50 antes and be ahead of 25 per cent of the field.
See you tomorrow.
Triton Cyprus Special Edition
Event #5 $75,000 Short Deck Hold'em
Seth Davies USA 1,019,000
Wei Hsiang Yeu Malaysia 949,000
Lun Loon Malaysia 821,000
Ivan Leow Malaysia 821,000
Ferdinand Putra Indonesia 816,000
Phil Ivey USA 809,000
Chris Brewer USA 779,000
Kiat Lee Malaysia 747,000
Paul Phua Malaysia 706,000
Stephen Chidwick UK 672,000
Daniel Dvoress Canada 627,000
Cary Katz USA 568,000
Elton Tsang Hong Kong 483,000
Danny Tang Hong Kong 411,000
Jason Koon USA 347,000
Mike Watson Canada 340,000
Wai Kin Yong Malaysia 285,000
Mikita Badziakouski Belarus 256,000
Winfred Yu Hong Kong 164,000
Jun Wah Yap Malaysia 81,000
Photography by Joe Giron/PokerPhotoArchive