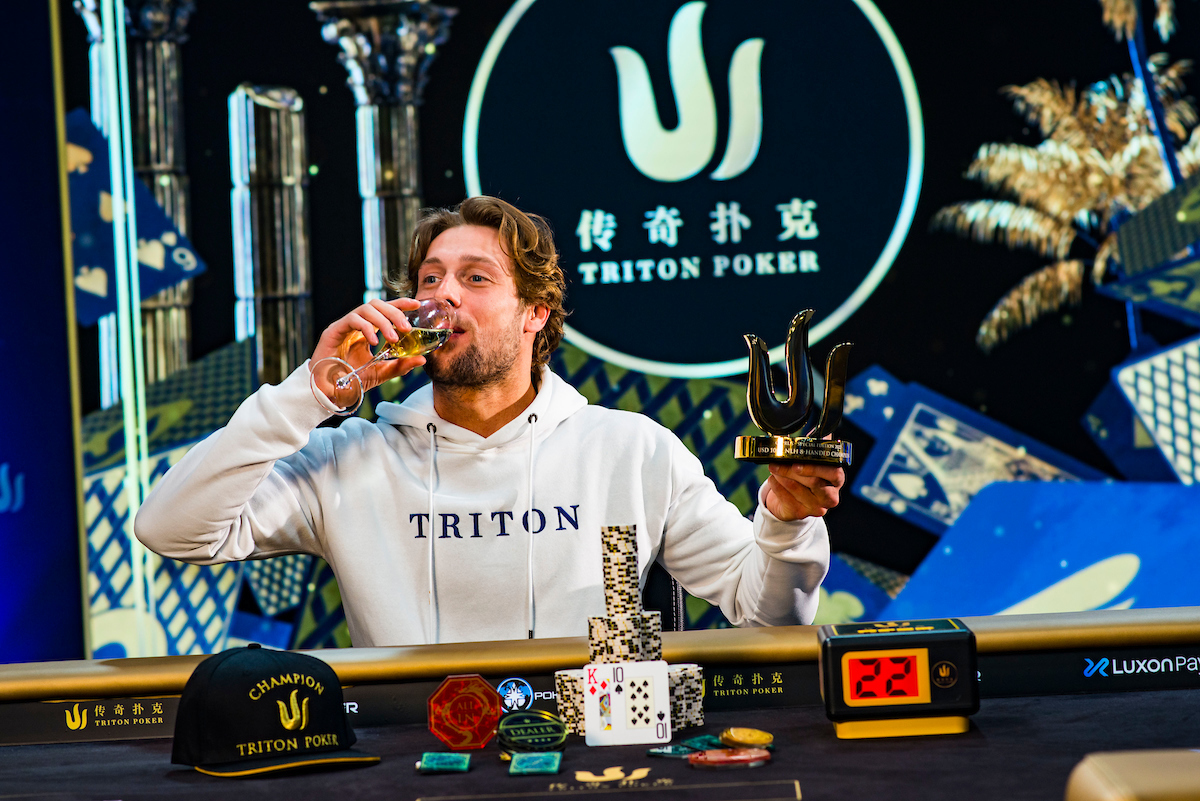 As you have probably already seen, the most unlikely story played out on the Triton Series yesterday when two Hungarian players, who are also good friends, finished first and second in the opening event of this high stakes festival at the Merit Casino & Resort in Cyprus.
But poker is a simply extraordinary game sometimes, and that most unlikely story happened again tonight, almost to the letter.
This time, the two good friends were Dutchmen — Teun Mulder and Tom Vogelsang — who travelled to Cyprus together and then finished heads-up in the $100,000 buy-in no limit hold'em event, both banking more than $1 million.
"We talked about it," Mulder, the winner, said after the event. "We said to each other 'Today it's going to be the Dutch guys first and second.'" The prophesy came true.
Mulder has played once before on the Triton Series. Vogelsang is at his first event. The fact that they were the last men standing is a truly staggering coincidence, as well as testament to their exceptional skills.
Mulder did require at least one incredible outdraw to get into position to win. With three players left, he hit a miracle two-outer on the river to survive in an enormous pot, denting the party-pooper aspirations of Jake Schindler, of the USA. Vogelsang then ended Schindler's event entirely, leaving the double Dutch delight.
"I'm pretty tired but good," Mulder said at the end of a marathon day. "I got pretty lucky with the pocket fours, but to play against my best friend, as well."
Mulder's win earned him $1,940,000, the biggest live score of his career. Vogelsang banked $1,390,000, also a new mark for him. What a astounding conclusion.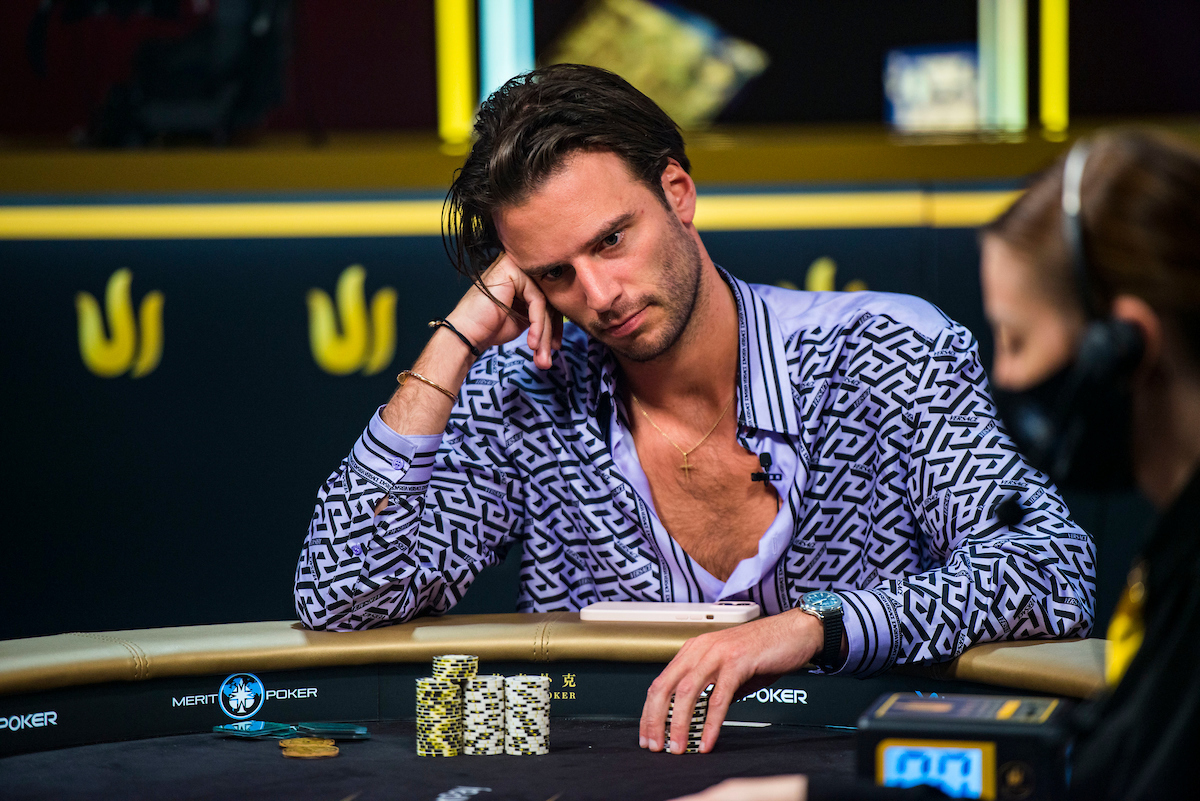 With nine players due to be paid in this one, and a maximum of eight per table, the bubble played out in part on the TV stage and in part in the outer field beside it, with two tables of five players apiece.
It was interrupted by a brief power cut, then a discussion about a dinner break, and then a dinner break itself, all alongside the usual bubble shenanigans. That includes hand-for-hand play, big stacks being ruthless, small stacks clinging on and sometimes doubling up.
Of course, that all inevitably ends, and the eliminated player this time was someone who left without too much complaint. It was Andras Nemeth, the man who won the opening event in this festival.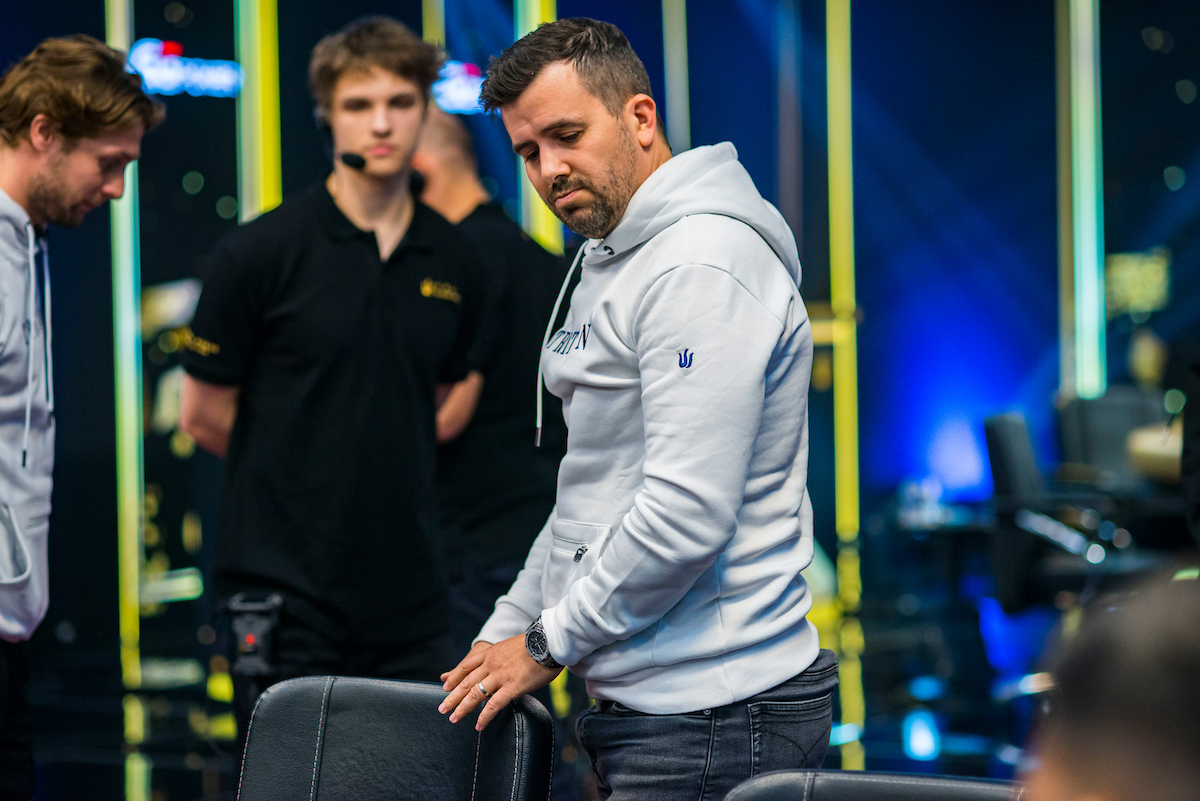 With the clear potential to make his Triton hit-rate two from two, Nemeth got his stack of about 12 big blinds in the middle as an under-call, following Tom Vogelsang's open-push from the small blind. (Vogelsang had heaps.)
Nemeth agonised and made the call, learning he was ahead with his


to Vogelsang's


, but the board of





was a slow torture, eventually filling Vogelsang's straight.
Vogelsang offered his fist to bump, Nemeth bumped it, and then wandered away as the others headed up to the TV stage. That last nine, all now guaranteed a payday of at least $192,000, settled down for a final table photo and then to play towards a first prize 10 times that amount.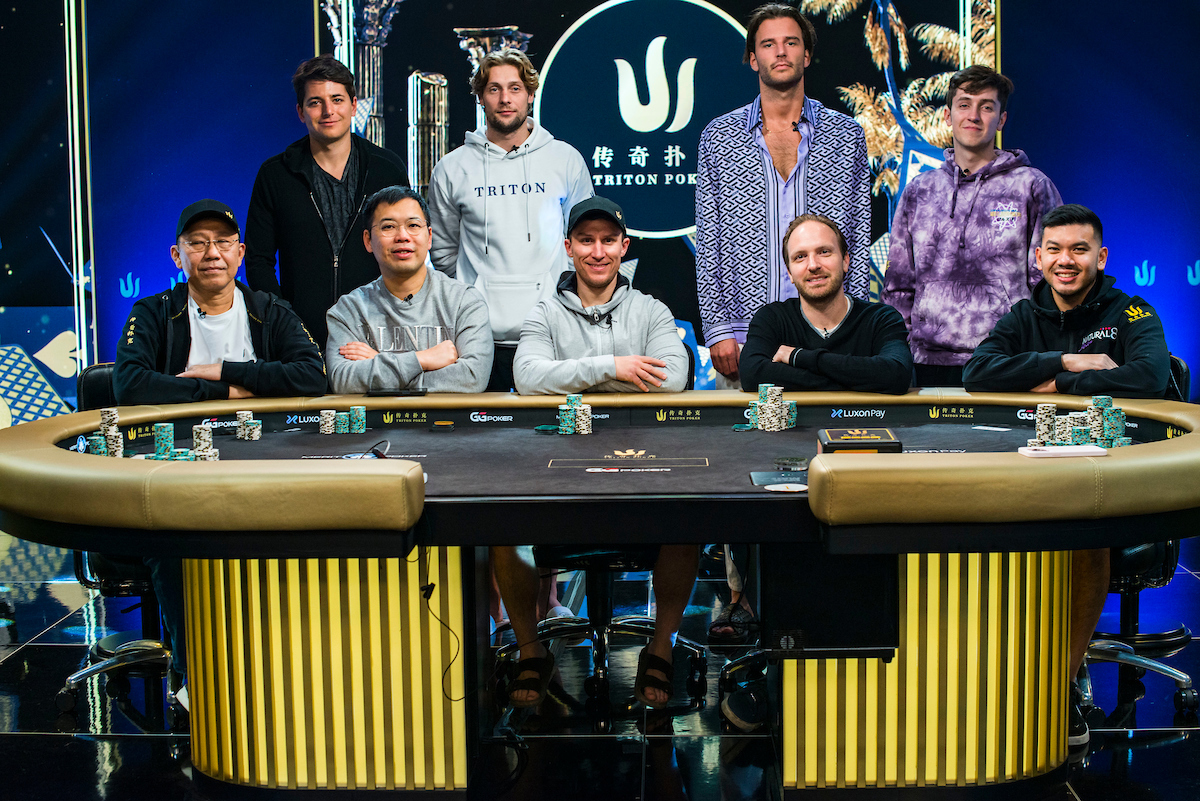 There are always some delightful sub-plots in these Triton events, over and above the fact that they're playing for tons of money. This time, it was difficult to look beyond the fact that the final had two best friends and countrymen, in Vogelsang and Teun Mulder, the very day after Nemeth and Laszlo Bujtas, friends and countrymen, went heads up. Yesterday it was Hungary, today it was the Netherlands.
The two biggest stacks also fit this dynamic: Mike Watson and Daniel Dvoress, who have endured some rough times on the Triton Series over the years, are friends and Canadian countrymen.
And that's before we even talk about Paul Phua, the Triton co-founder and most prominent driving force, who was returning to a final table and picking up the 17th cash of his career in this series. Nobody has more, but Phua remains without a title.
The opening stages of the final table were circumspect, at least by Triton standards. It took a good hour or so before we lost a first player. That man was Elton Tsang, the high rolling Hong Kong-based businessman/poker player, who also made yesterday's final table.
Tsang got the last of his chips in the pot with


— up against Watson's


— and was far from dead and buried after the flop of



. The

turn opened up more possibilities, but the

river snatched them away again.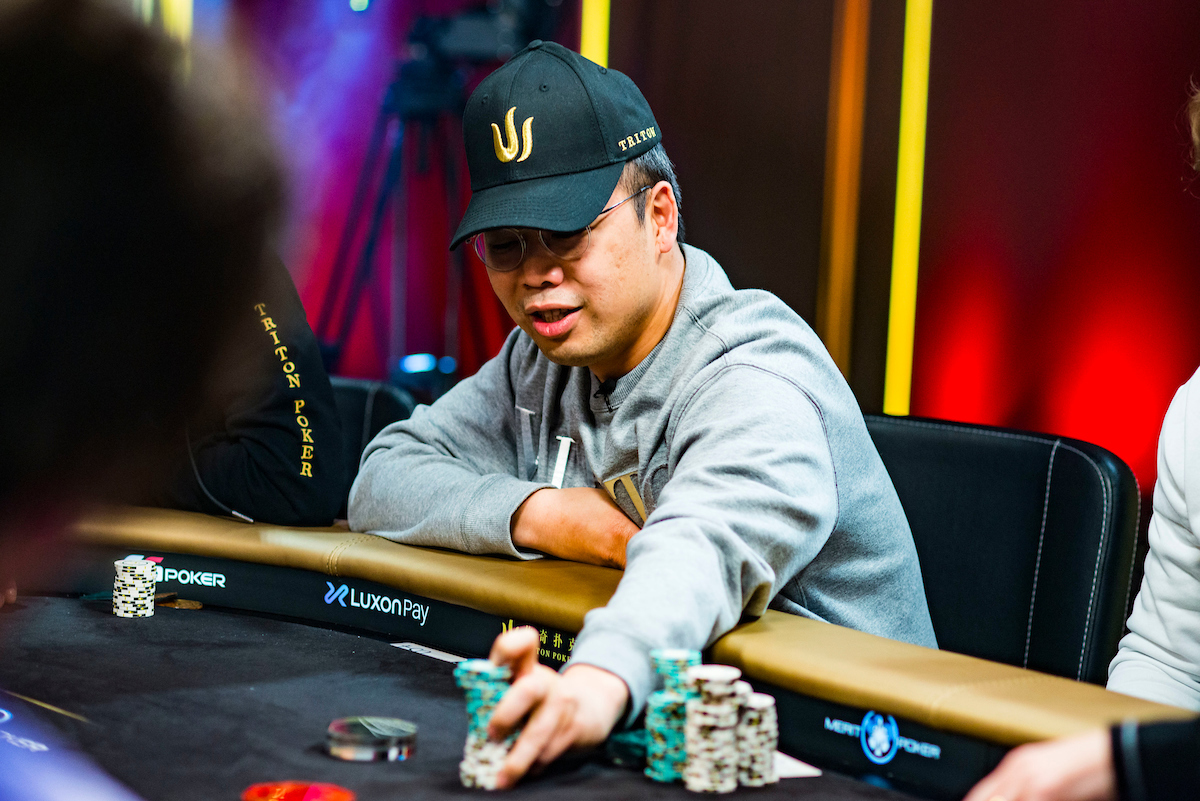 Tsang won $192,000, nearly double his buy-in, for finishing ninth.
There then followed the start of the Phua show. There are few players in world poker with the survival instincts of the Malaysian, and he was assisted by a nice triple up with queens through Watson and Soyza, with jacks and eights, respectively.
Phua latterly doubled up again, keeping his head above water, and he was still a participant rather than a spectator when Ali Imsirovic's run ended in seventh.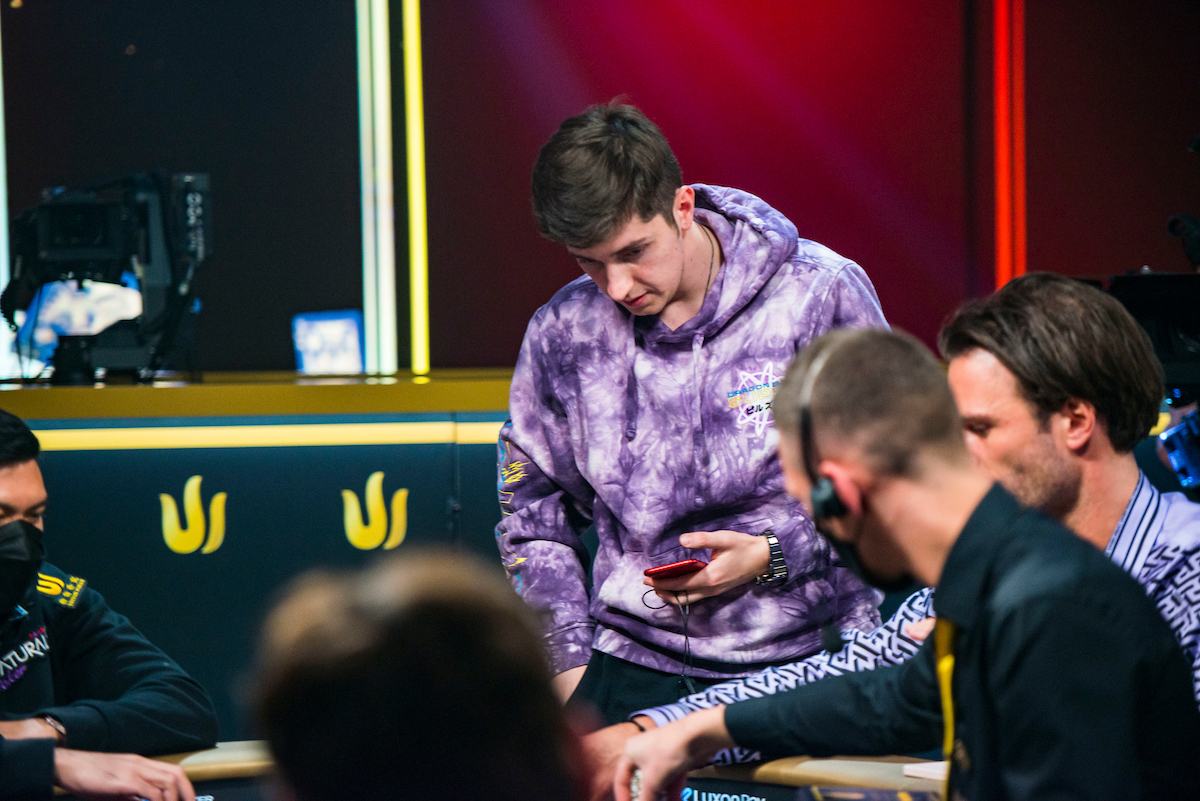 Imsirovic perished in a blind-versus-blind collision with Vogelsang:


losing out to


. Nevertheless, the flag of Bosnia & Herzegovina now features on the Triton rankings table as Imsirovic picked up $251,700 for his debut cash.
Time then caught up with Phua, who left his own arena trophy-less again. Vogelsang had been on a bit of a tear and had recently doubled up through Jake Schindler, with


bettering Schindler's


. Vogelsang made a straight.
He demonstrated again the power of the suited connectors in the hand that bust Phua, but this time did it by spiking a jack when he got it in with


against Phua's black pocket tens.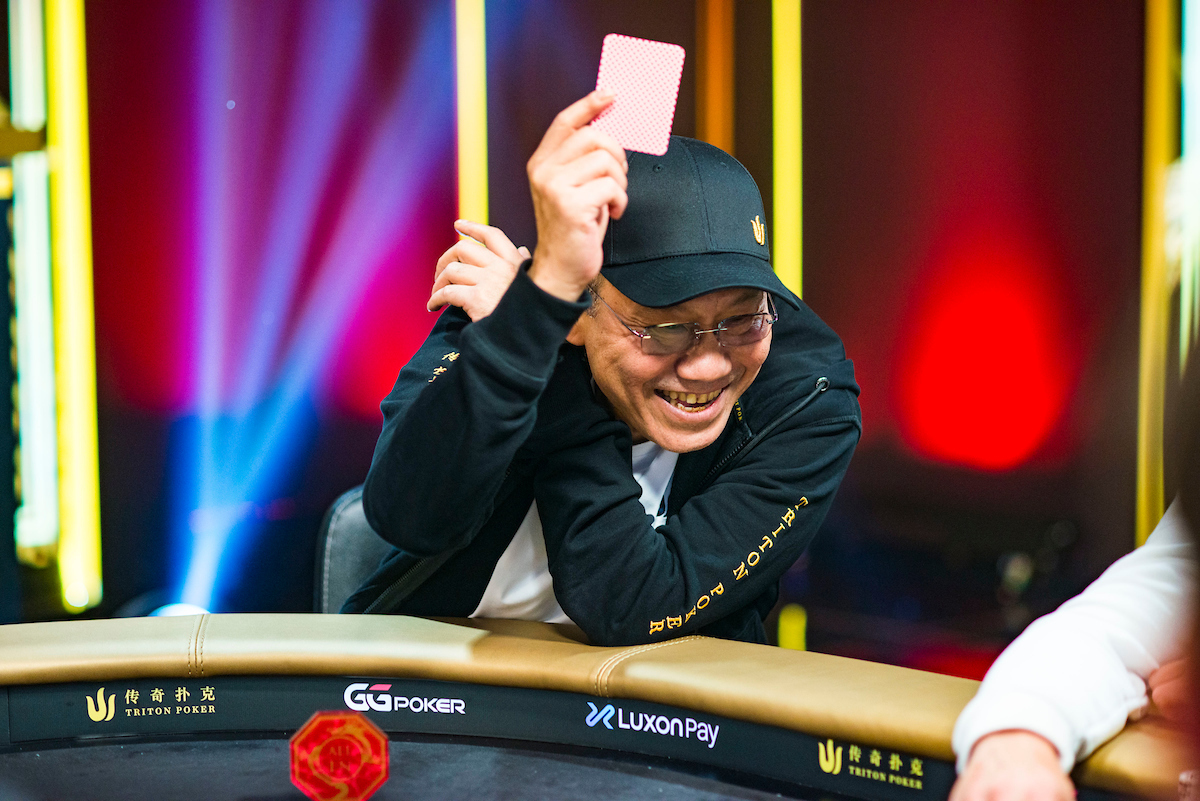 Phua flopped a flush draw on the all-spade board, but it was the jack lurking there, plus the club and diamond on turn and river, that sealed Phua's fate. Cash No 17 came with $324,500.
Vogelsang's fortunes did not change. He still had the golden touch — and he got a bit of help for the next elimination from his countryman Mulder.
Mulder pulled off a big double up, of 890,000, getting his


to beat Soyza's


. He flopped a king. That meant that Soyza was damaged and short when he got his chips in with


and was picked off by Vogelsang's


.
Vogelsang flopped a queen, Soyza couldn't improve, and the second and final Malaysian went to the cage for a $410,500 payout.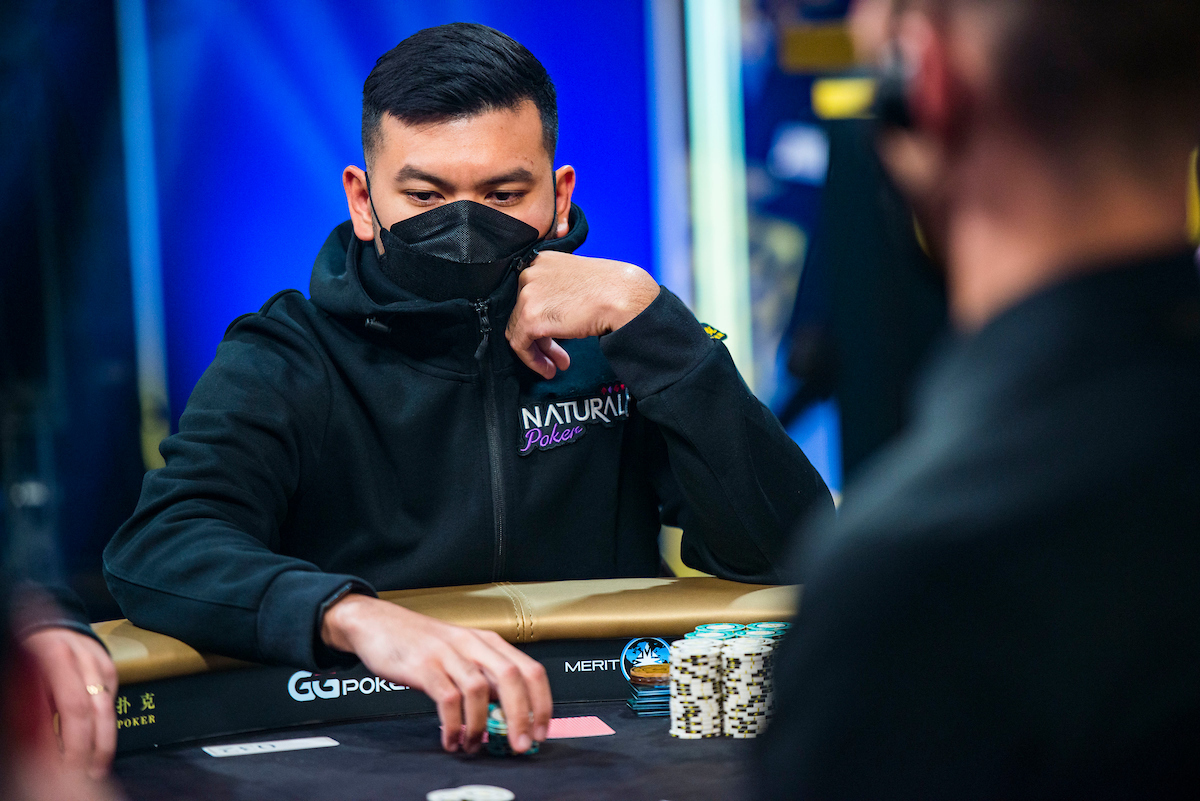 As they had in the day's other tournament, stacks had really shallowed in this huge buy-in event. Dvoress and Schindler were in the blinds when the next pivotal hand played out.
Dvoress raised from the small blind with


and Schindler defended his big with


. The flop was an intriguing



.
Dvoress moved all-in, with his stack of 2.5 million covering the 940,000 of Schindler. Schindler had the better hand and found the right call, and then improved to a flush on the

turn. Dvoress still had full house outs, but didn't find one of them, meaning Schindler found an emphatic double.
That became even more relevant on the very next hand, when Dvoress had


on the button and ripped in his last 1.6 million. Schindler found


, reshoved to remove Mulder, and then knocked out Dvoress when the board was dry.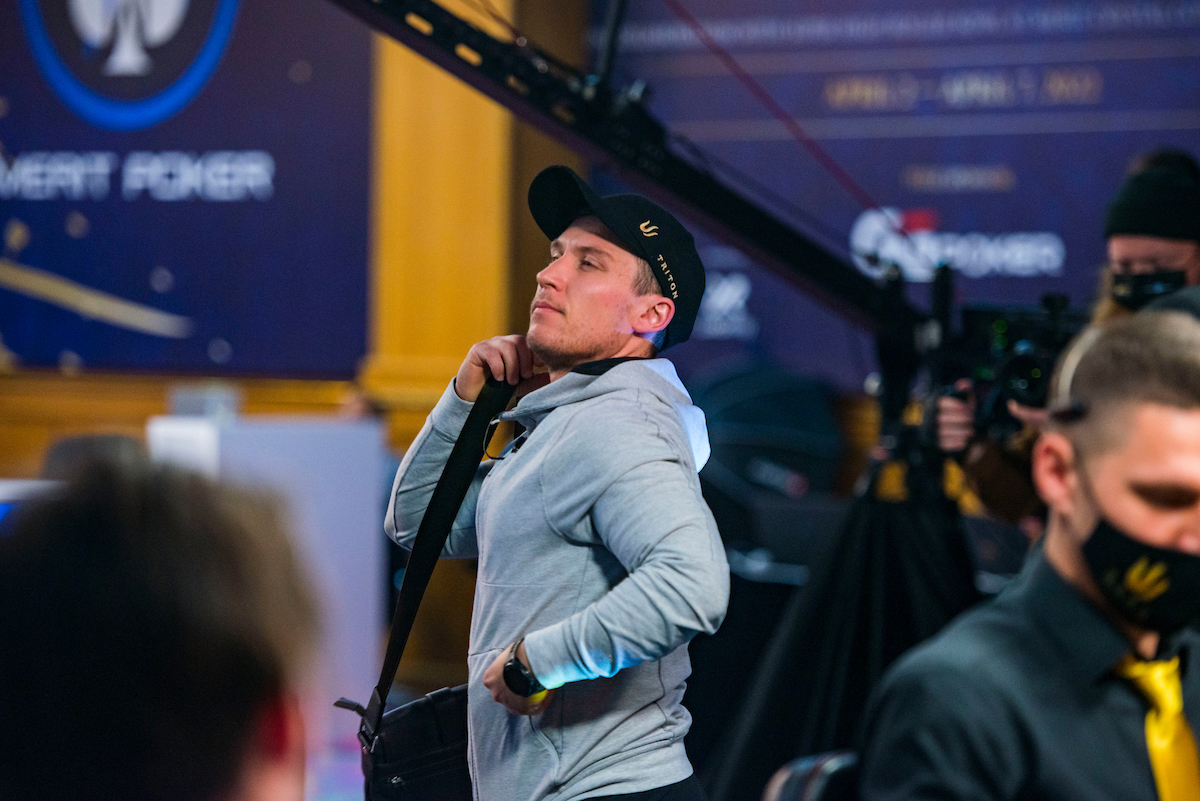 Dvoress took $529,000 after the one-two sucker punch combo from Schindler.
Very shortly after Dvoress was knocked out, the other Canadian hit the rail. Watson had been the biggest stack of all when they got to the final, but he was powerless in the face of Schindler's resurgence.
Schindler had


and Watson


. The problem was the king on board and the better kicker for Schindler, after they played through all five streets. Watson snap-called Schindler's river shove and learned the bad news.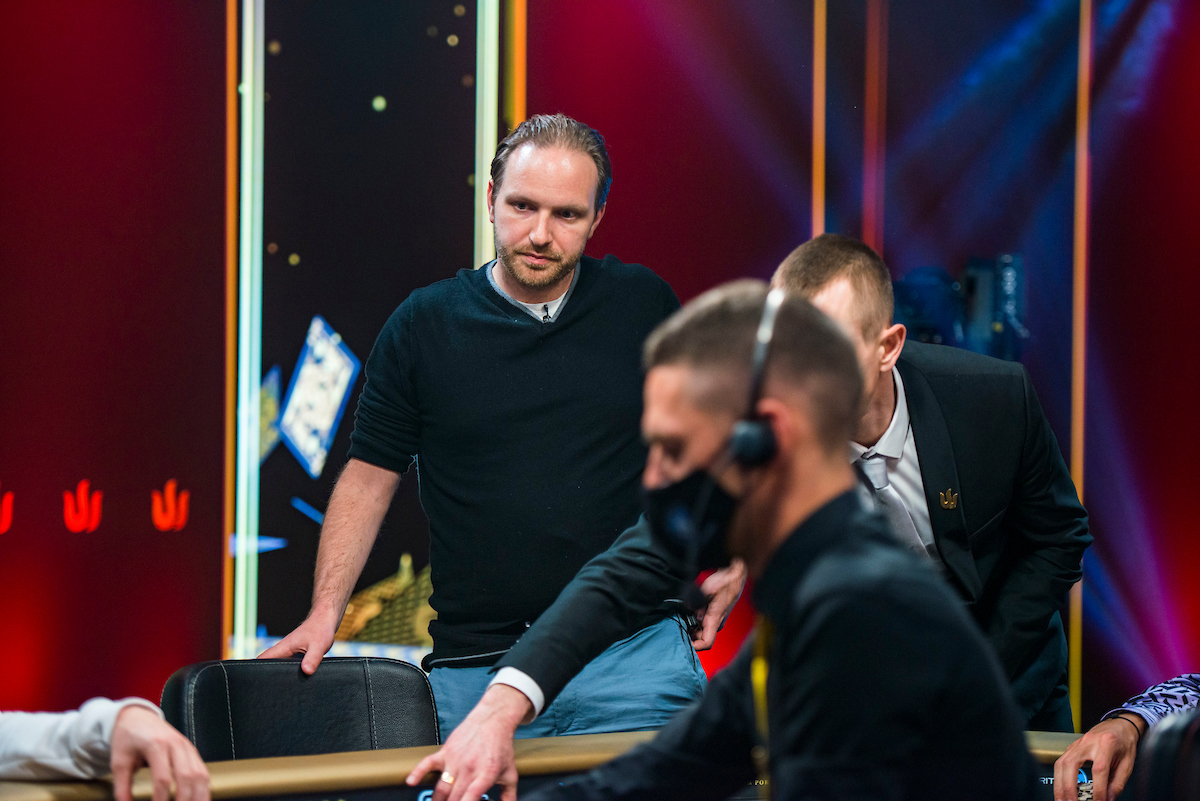 Watson won $683,300, but was clearly hugely disappointed by the outcome.
Schindler was on a roll, but he quickly hit the skids. There soon came that enormous skirmish with Mulder, when the Dutchman opened pocket fours, Schindler three-bet, Mulder four-bet shoved and Schindler called.
The flop was



, only good for the jacks. And the

turn didn't hurt Schindler either. However the

river was a real sickener and left the lone American with fumes.
Schindler did manage to double up a couple of times, and might actually have vaulted back into real contention in what proved to be his final hand. Schindler had


to Vogelsang's


, and the flop brought something for both of them. It came



.
Schindler's two pair was good still after the

turn but once again he was killed by the river. This one was the

, completing Vogelsang's flush. GG Jake.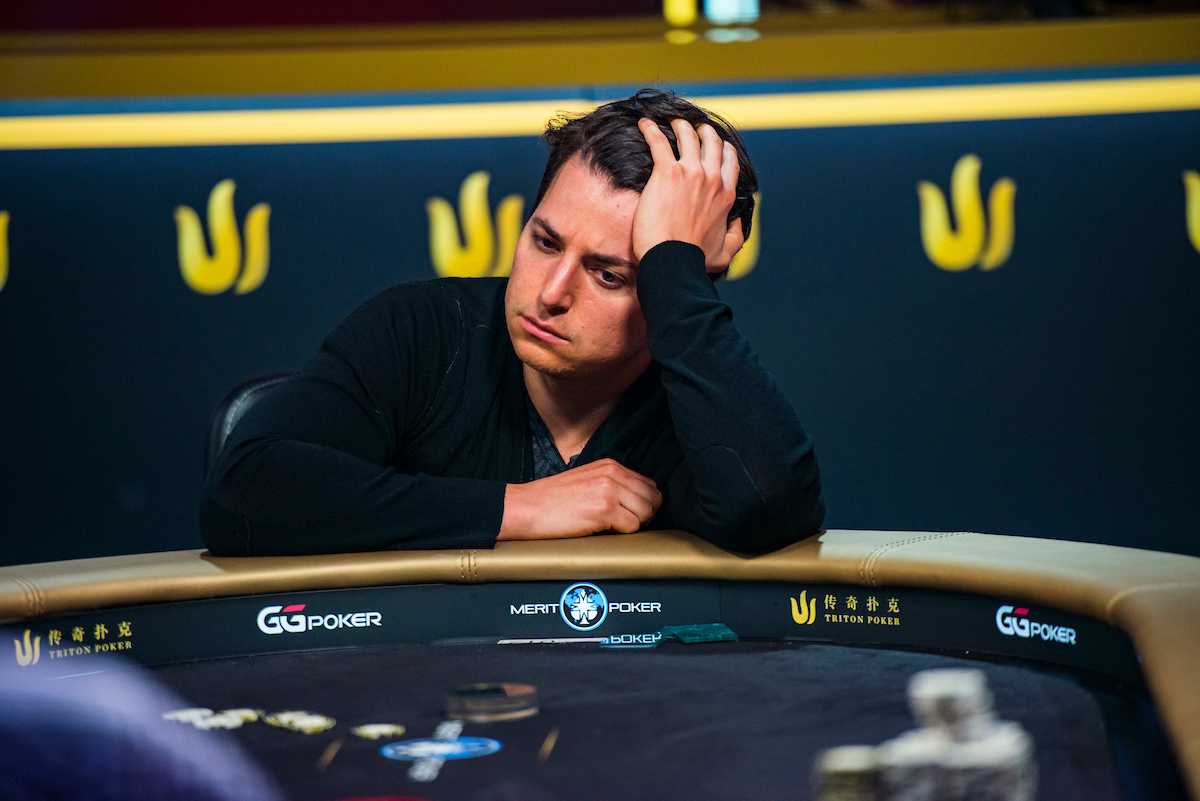 That left the two Dutch buddies to do battle, and Mulder had the significant chip lead. Although they did not make any deal official — and we don't know the details of any arrangement they might have made off the table — the heads up lasted all of three hands.
Both players made a straight with the board showing





, but Mulder had the stranglehold with his


to Vogelsang's


.
And that closed out another remarkable episode on the Triton Poker Series. Truly extraordinary.
"I love Triton," Mulder said. "Compared to all the other series, I think this is the best." Triton loves you back, Teun.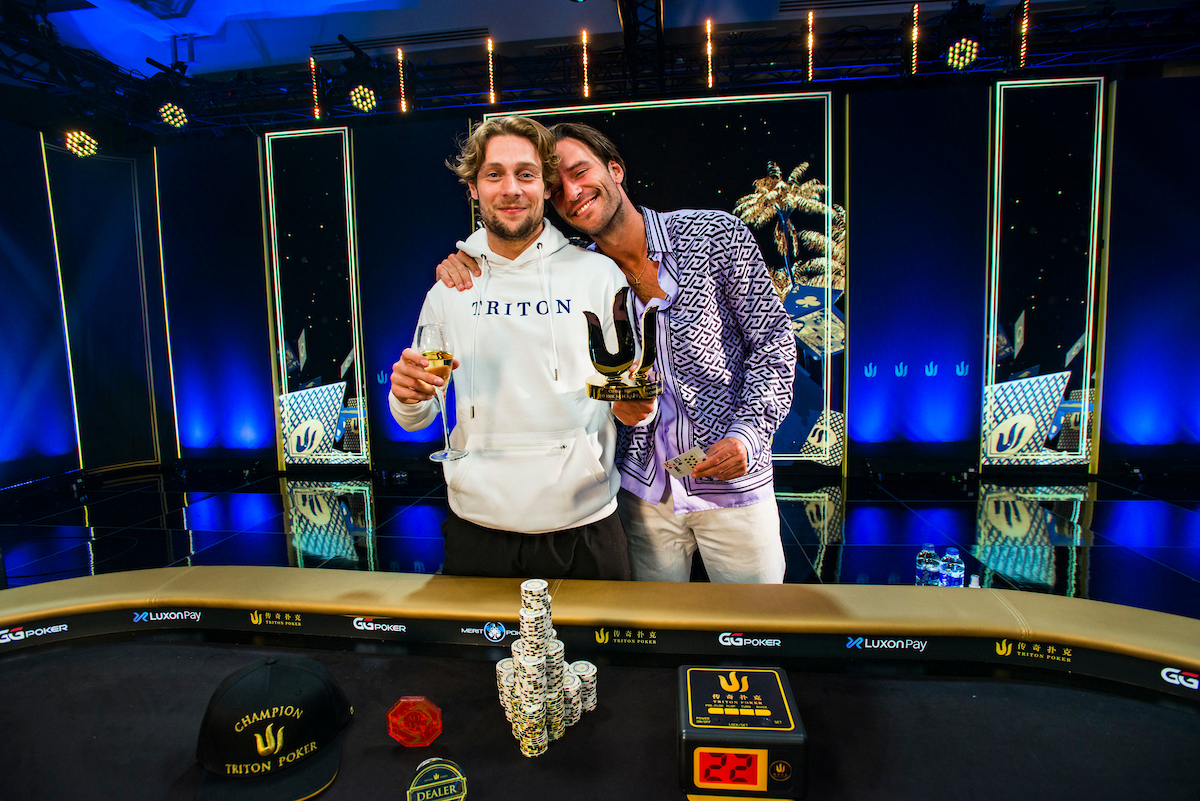 TRITON CYPRUS SPECIAL EDITION
EVENT 2: $100K EIGHT-HANDED NLHE
Dates: April 3-4, 2022
Entries: 69 (inc. 31 re-entries)
Prize pool: $6,624,000
1 – Teun Mulder, Netherlands, $1,940,000
2 – Tom Vogelsang, Netherlands, $1,390,000
3 – Jake Schindler, USA, $903,000
4 – Mike Watson, Canada, $683,300
5 – Daniel Dvoress, Canada, $529,000
6 – Michael Soyza, Malaysia, $410,500
7 – Paul Phua, Malaysia, $324,500
8 – Ali Imsirovic, Bosnia & Herzegovina, $251,700
9 – Elton Tsang, Hong Kong, $192,000
Photography by Joe Giron/PokerPhotoArchive