The £100,000 no limit hold'em main event at the Triton Super High Roller Series in London is down to its last nine players–but the tournament is now edging into a third and final day.
As has happened often at this festival in the Hilton Hotel, Park Lane, increased player numbers have forced a change to the advertised schedule with another day necessary to find a winner.
Not that Triton co-founder Paul Phua (pictured above) will complain. By his standards, the vivacious Malaysian had had a poor stop in London so far, with only one cash, but he went on a remarkable late surge late tonight to carry the chip lead into the final.
He was the short stack on the bubble, but now has the most. He only has a tiny pip more than Ben Heath and Wai Kin Yong, but a lead is a lead. (It's been good for the Triton family, and Malaysia, all round: Wai Kin is the other co-founder Richard Yong's son, and four of the final nine are from the same country.)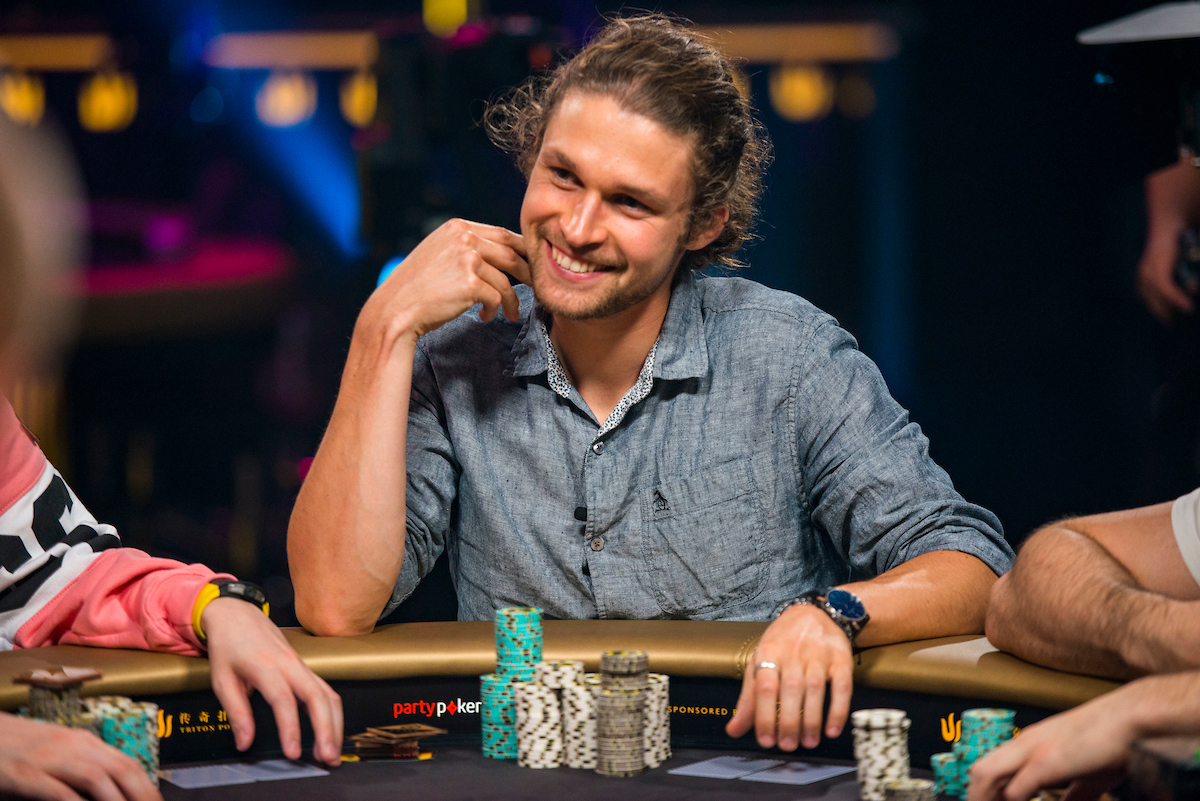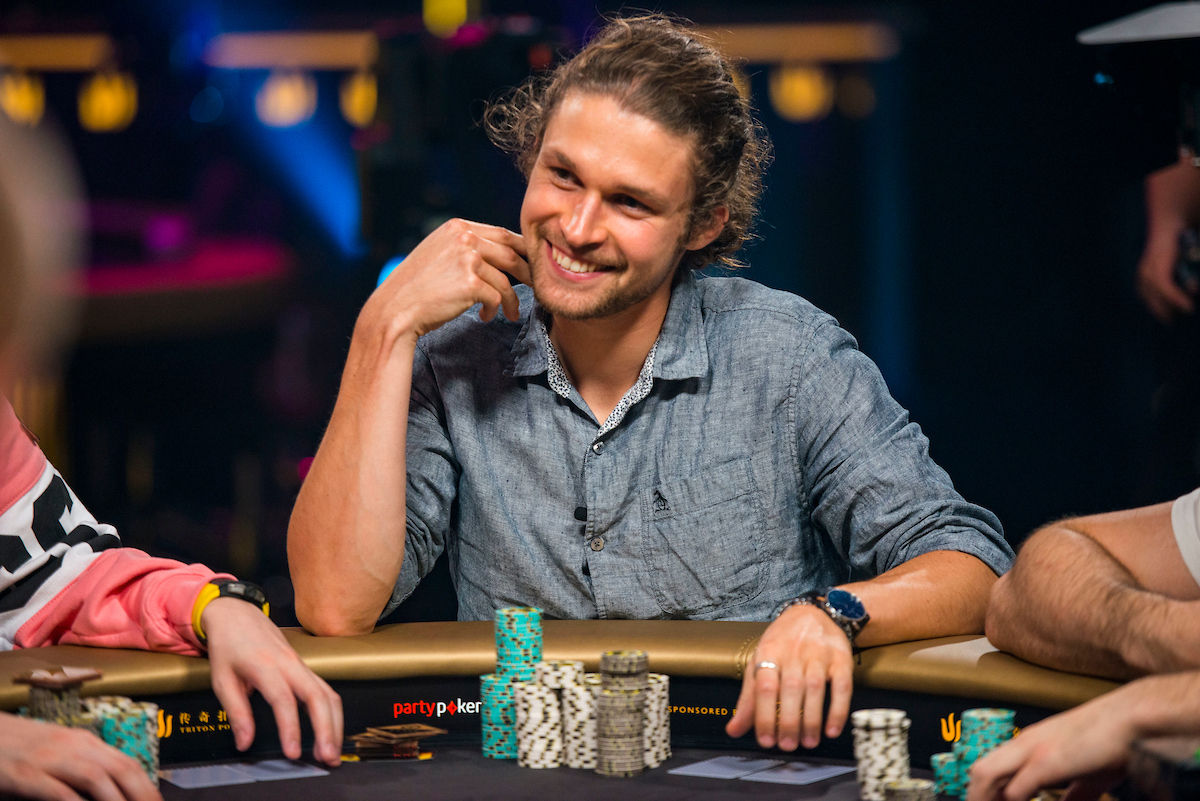 It's always true, but let's say it again: the full line-up features a clutch of the game's very best players, and the prize pool is enormous. There was £12.22 million to be divided between the last 17, with the winner set for £3.08 million.
FINAL TABLE PLAYERS
Paul Phua, Malaysia – 5.875 million
Ben Heath, UK – 5.81 million
Wai Kin Yong, Malaysia – 5.03 million
Michael Soyza, Malaysia – 3.87 million
Michael Zhang, UK – 3.74 million
Stephen Chidwick, UK – 2.955 million
Sam Greenwood, Canada – 2.385 million
Wai Leong Chan, Malaysia – 1.65 million
Daniel Cates, USA – 1.2 million
Registration closed at the start of play today, with the final total hitting 130 entries (including 52 re-entries). They vast majority gradually hit the skids until the bubble loomed into view at around 8.30pm. Only Seventeen were due to be paid.
There was major drama in the run-up to the most nervous period, with Justin Bonomo sending both Mikita Badziakouski and Randy Lew out of the tournament on the same hand. It was grim for Lew in particular as his


was in fine shape against Bonomo's


and Badziakouski's


.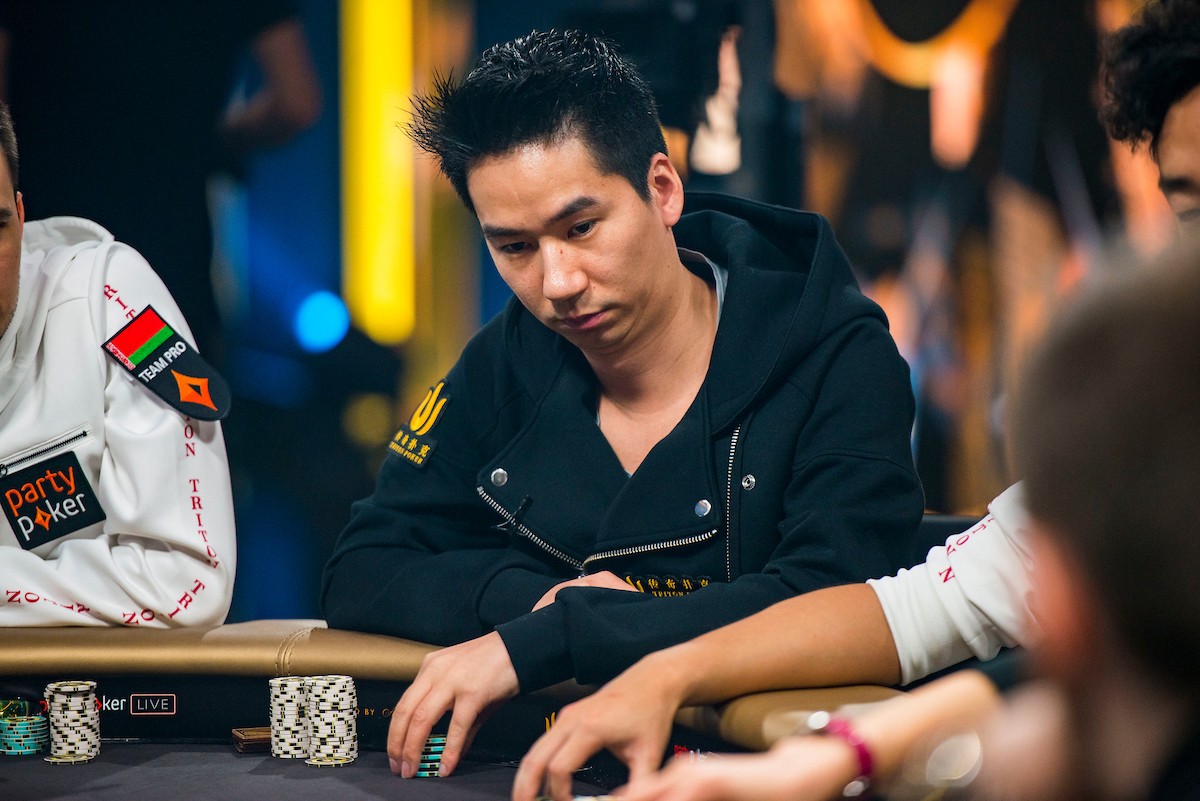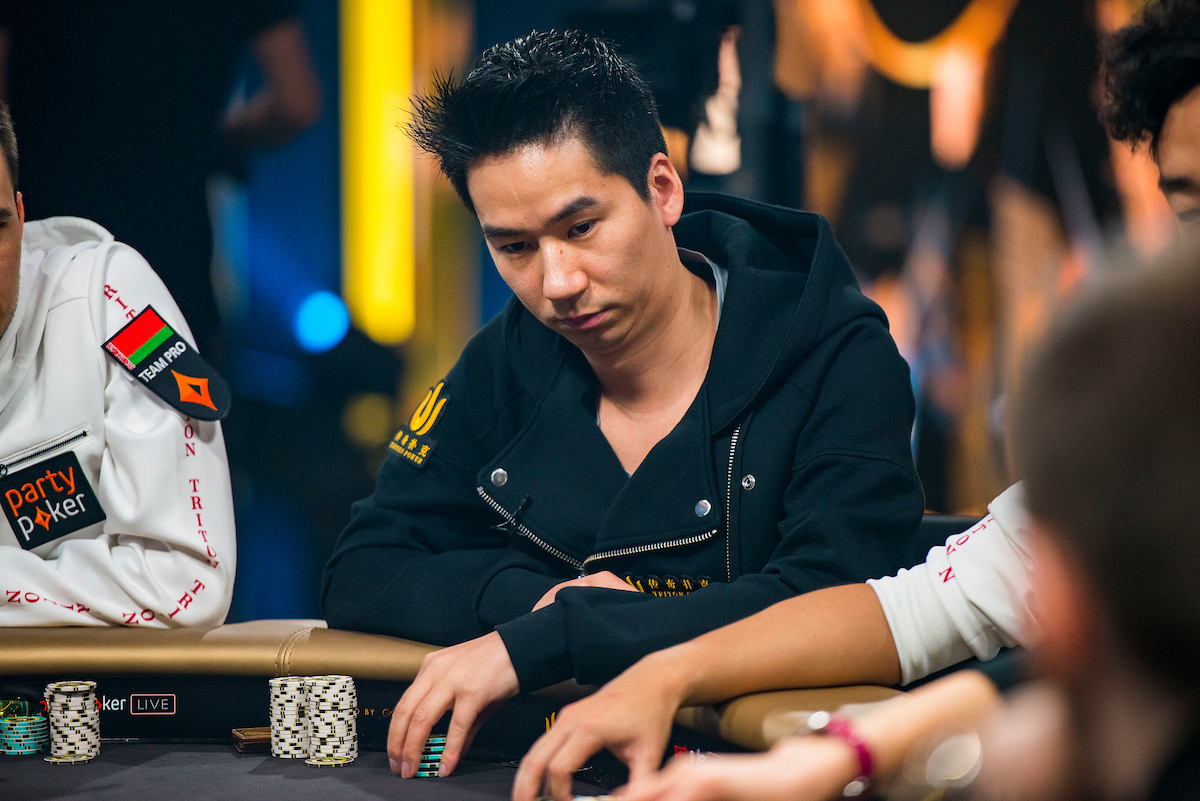 But the run out of





filled Bonomo's straight and what could have been a timely near-triple for "nanonoko" instead became a dreadfully timed bad beat. Lew's 420,000 and Badziakouski's 320,000 went to Bonomo.
But Bonomo himself was soon the man in danger on the stone bubble. Michael Zhang got it all in with pocket queens and Bonomo called with pocket tens. This was a pot of more than 2.5 million chips. The queens won this time, leaving Bonomo with only seven big blinds to try to weave his way into the money.
He got a big boost thanks to a pair of kings, which earned him a double through Wai Kin Yong's


and it was at this point that Paul Phua, a tournament short stack, came over and said to Bonomo: "I might be bubble boy."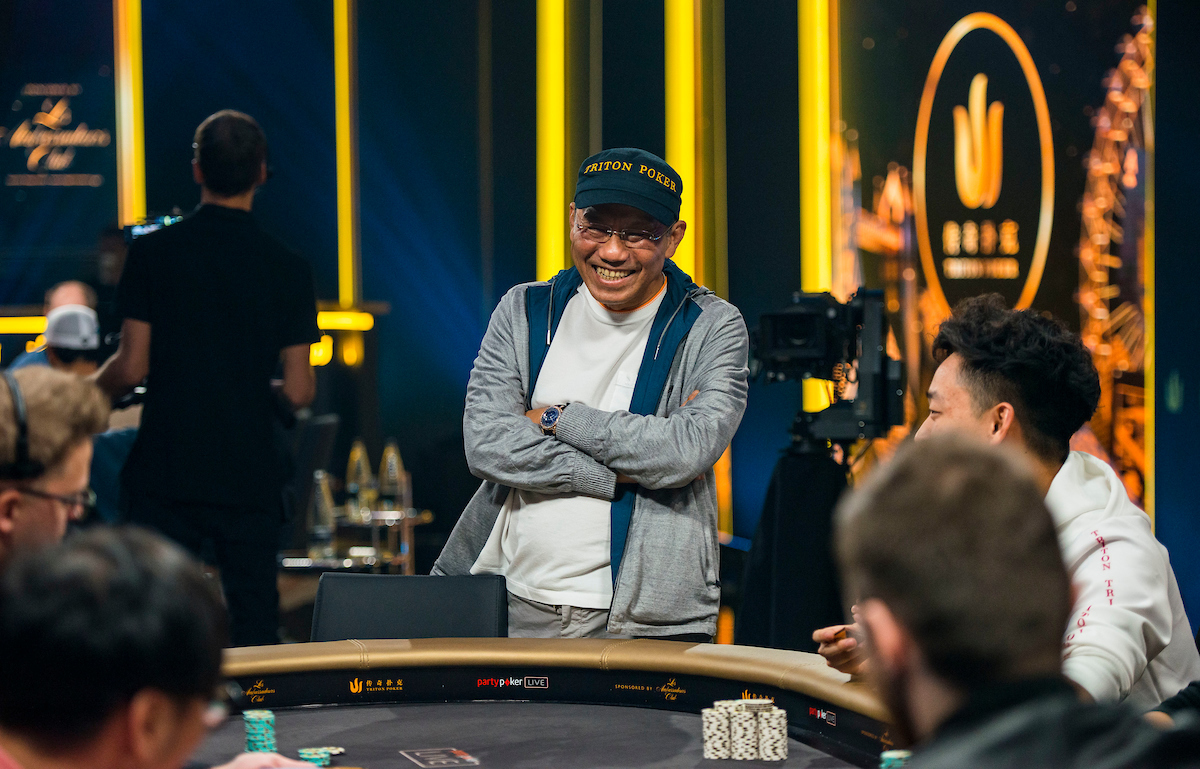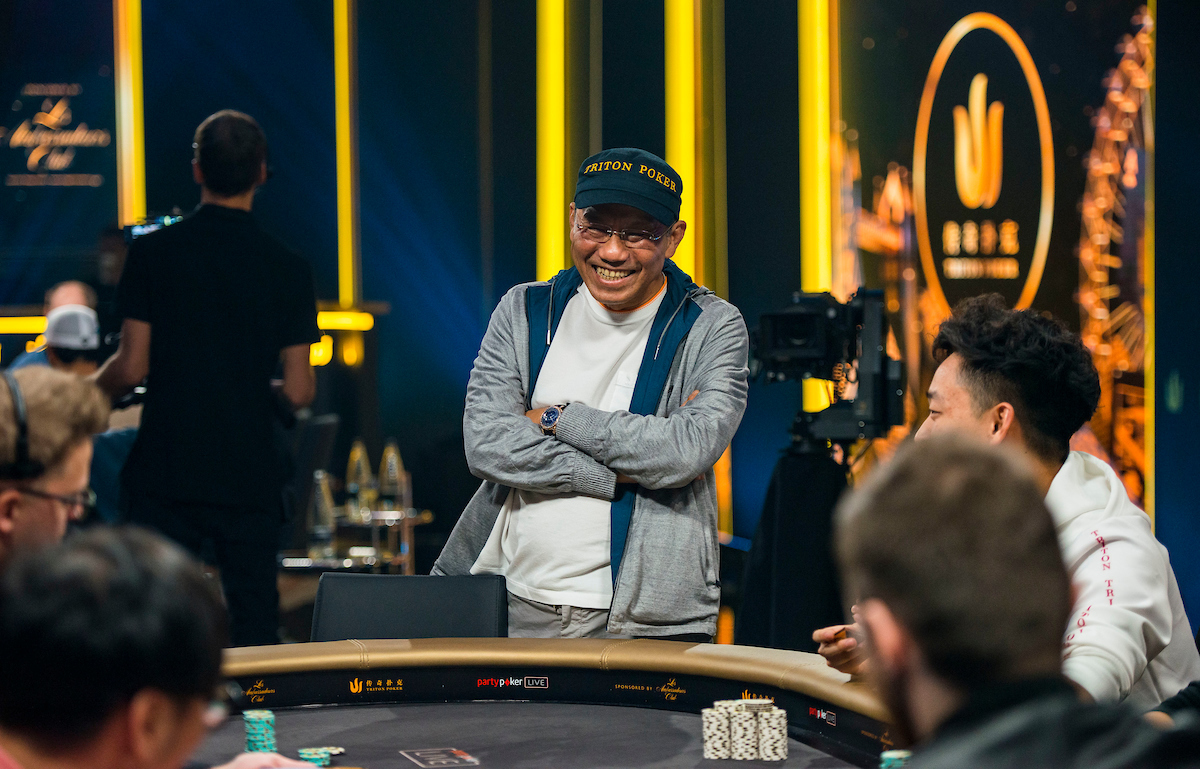 But he survived too during a protracted period of hand-for-hand play, which lasted a little over an hour. Eventually it came down to another bad beat with Michael Soyza's


spiking a seven to beat Tong Siow Choon's


. Phua offered his countryman and neighbour a fist bump that was equal parts consolation and celebration.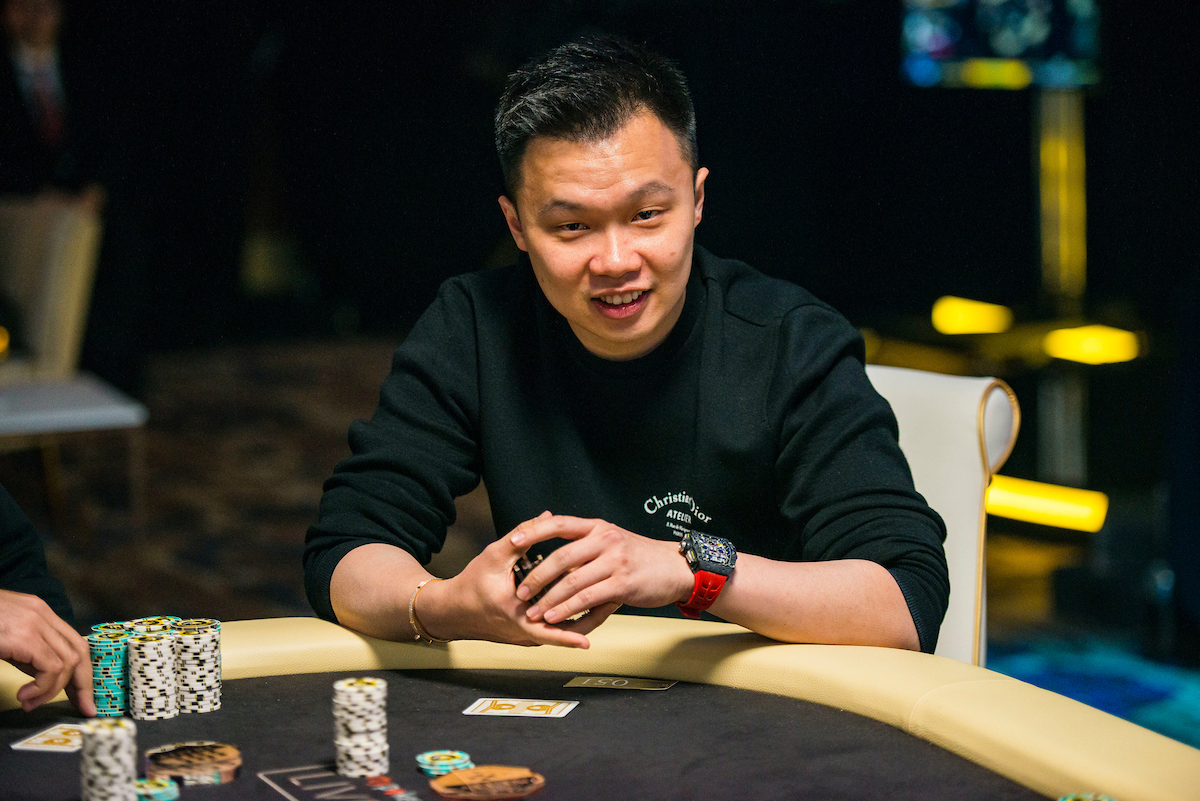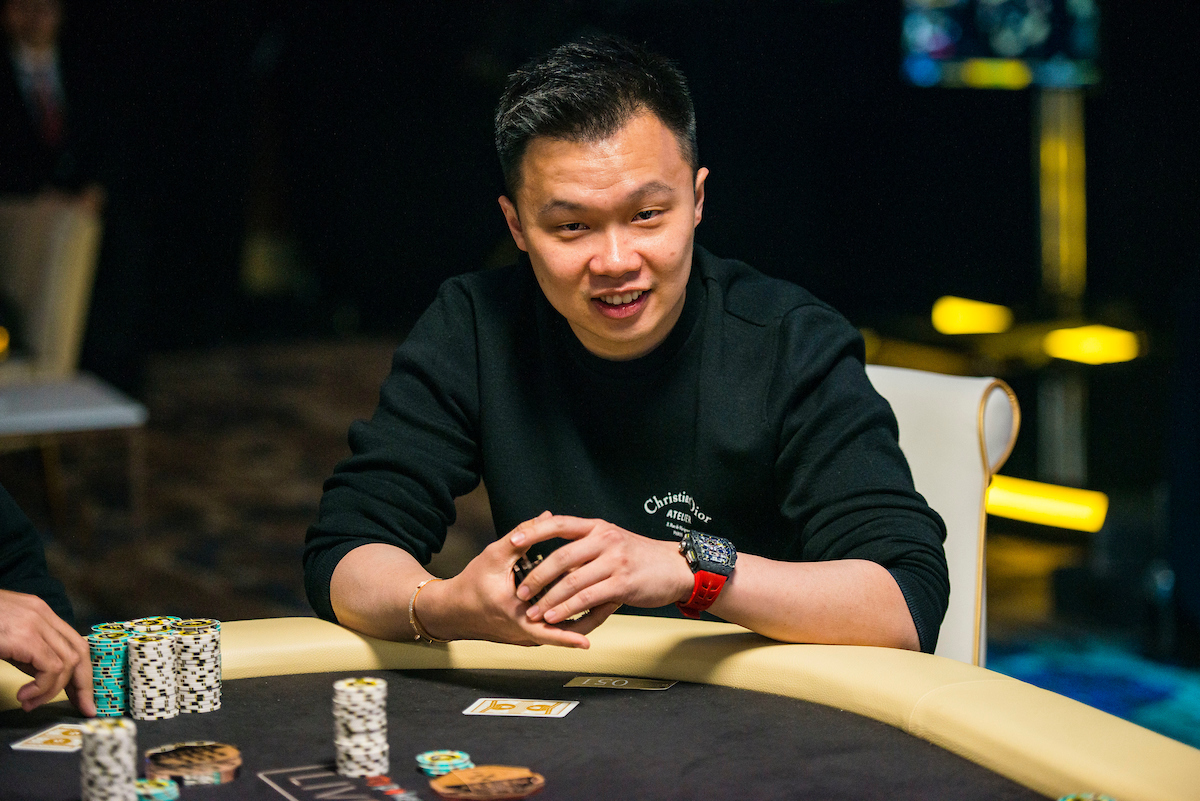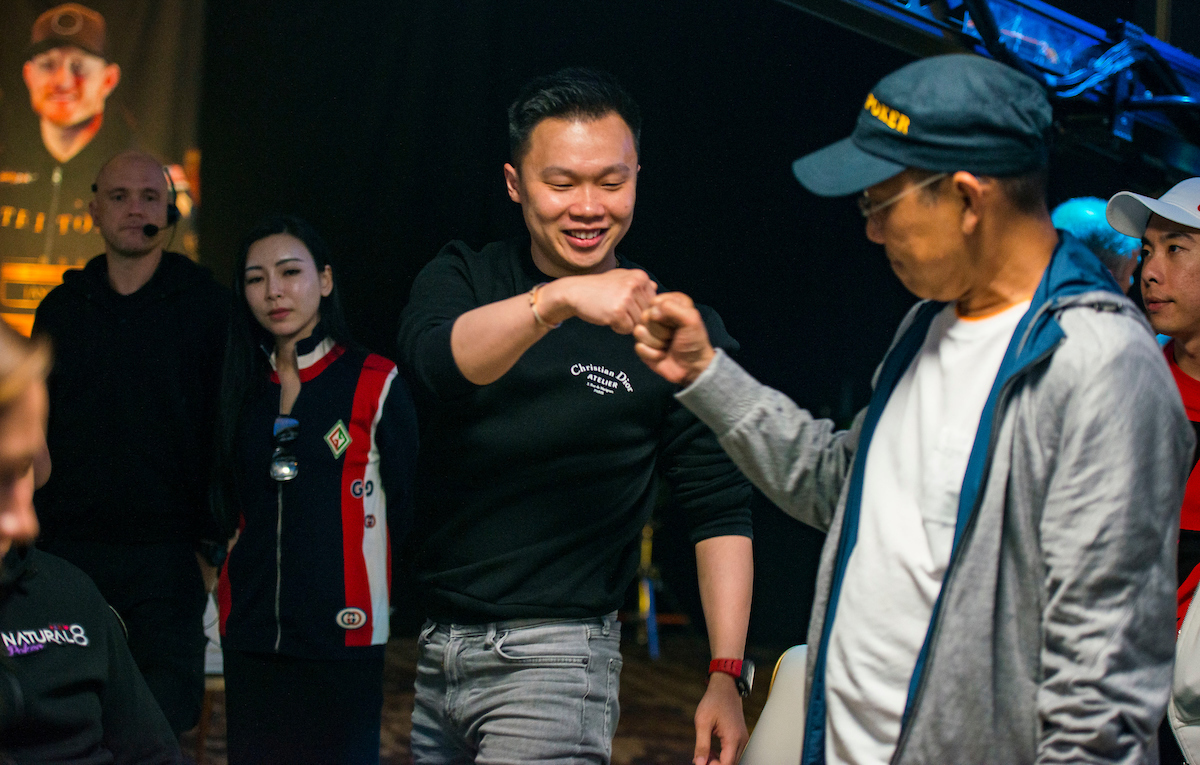 The post-bubble rush of eliminations, either side of a dinner break, accounted for a number of established Triton superstars, and two who likely have a great future.
Timothy Adams and Bonomo went out on the same hand, busted by Dan "Jungleman" Cates and a pair of kings. Bonomo had


and Adams had



(both were short-stacked) and Cates accounted for them both. Adams secured his third in-the-money finish from three tournaments entered this week, but missed out on another final. He won £192,000 for 16th; Bonomo took £201,600 for 15th. Overnight leader Tan Xuan went out in 13th, with Isaac Haxton quickly behind.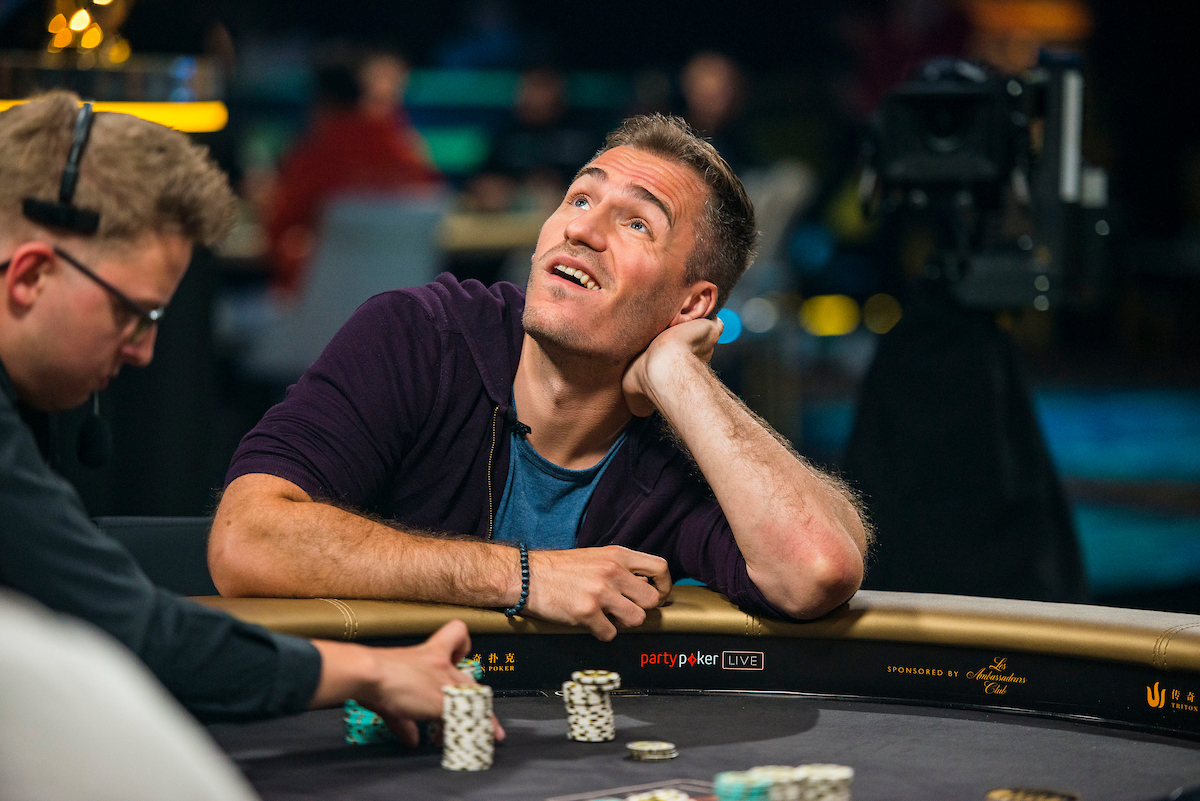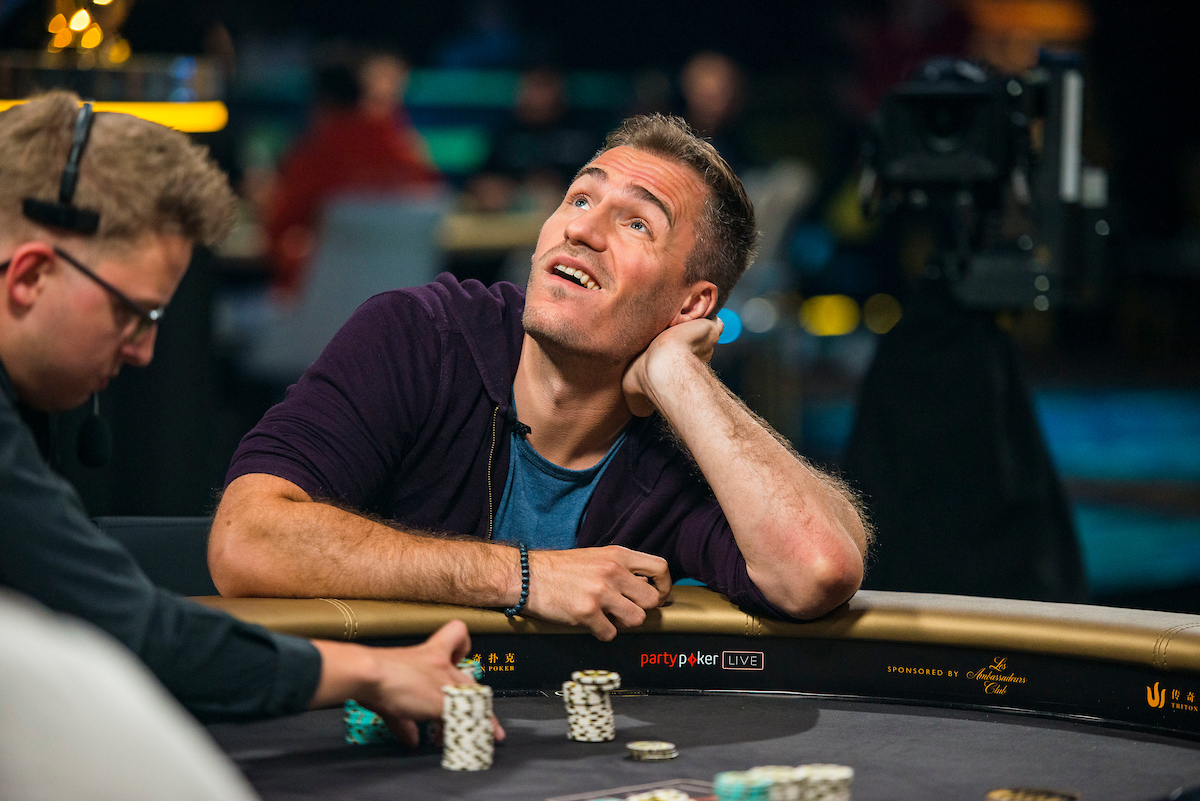 Wiktor "limitless" Malinowski preceded them all, but will almost certainly be visiting a final table soon enough on the Triton series. He is one of the huge online stars who has recently migrated to the live arena and this was his first Triton cash. But his reputation ensures that there will be plenty more, should he continue to play.
A word too about Sosia Jiang, who was the only woman to play the £1 million Helping Hand for Charity tournament this week, despite battling what looked like a fairly dreadful cold. She played the main event while clearly still suffering — standing away from the table drinking hot water and honey — but despite all became the first woman to cash on the Triton Series.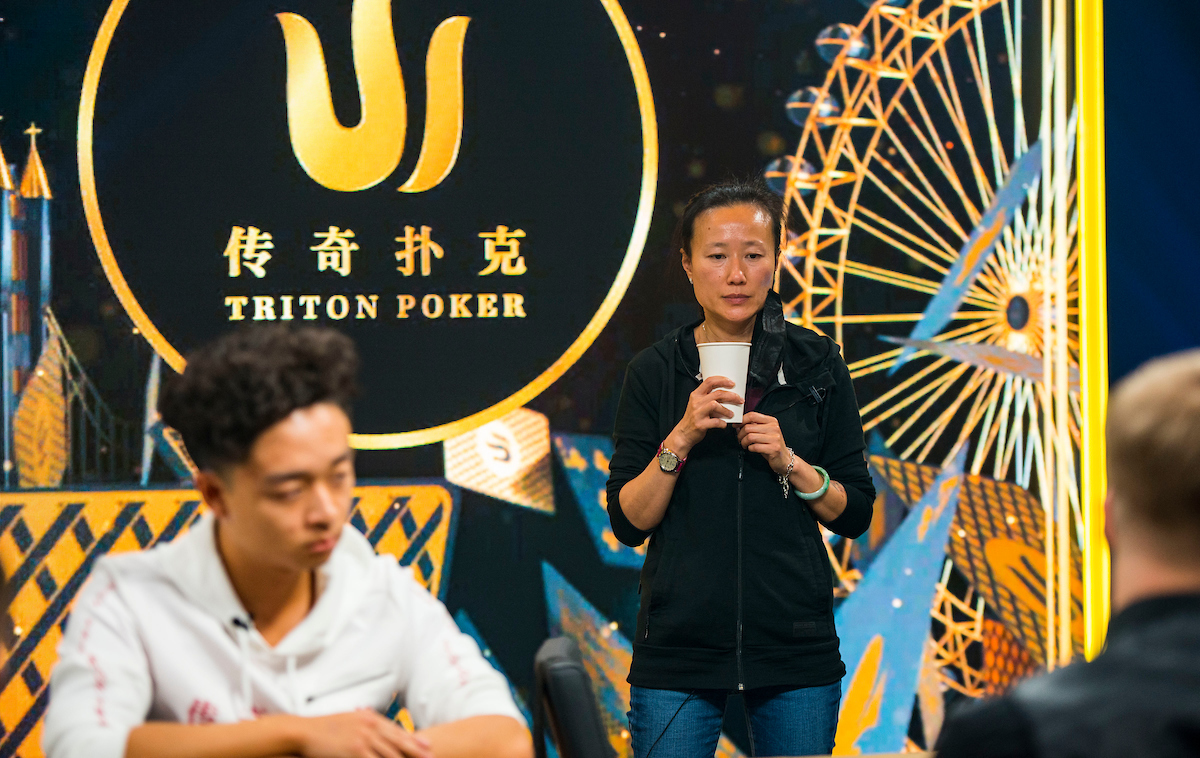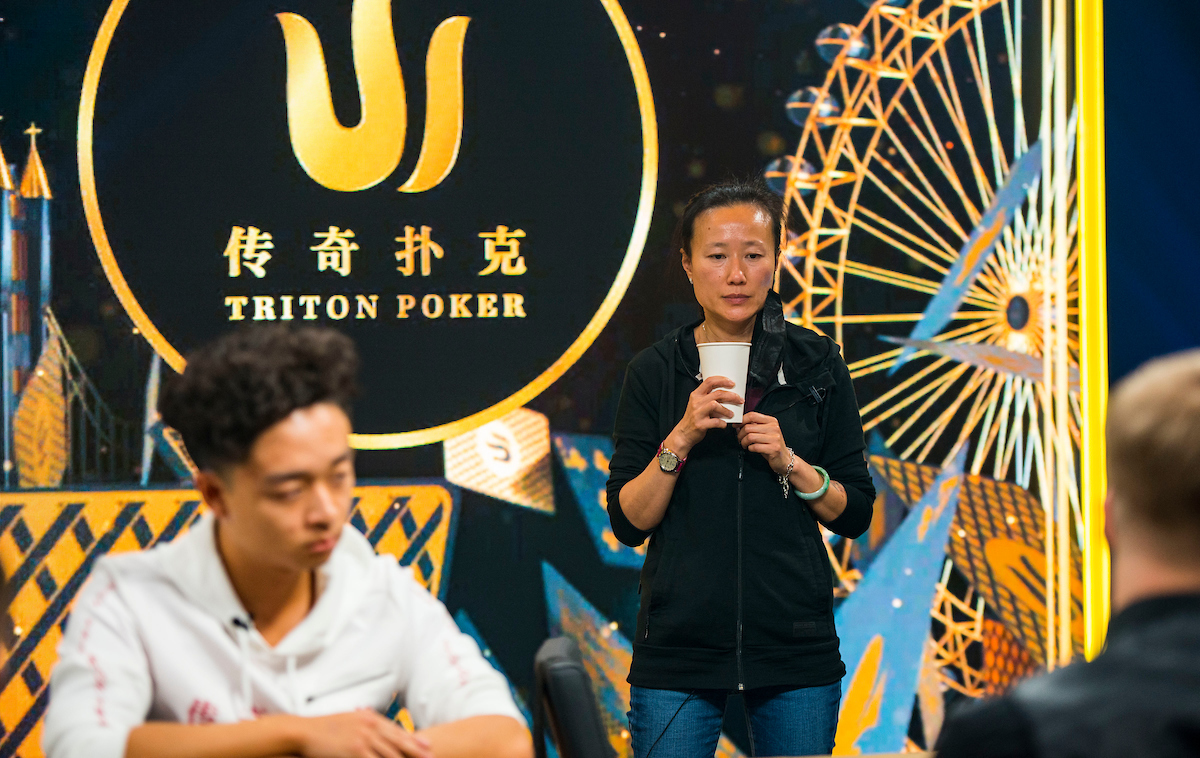 Her tournament came to an end when she shoved from the button with


and slammed into Michael Soyza's aces. Jiang left, but left her mark as well.
The tournament was now very shallow, and sure enough there was still time for Isaac Haxton, Xu Liang and Matthias Eibinger to bust and gather everyone around a final table. Phua was still among the shorties, but now started a surge. He had only 15 big blinds but doubled up for the first time with


to beat Wai Leong Chan's


and then won another big pot from Cates on the last hand of the night. Phua flopped a full house with his pocket threes while Cates's


flopped trips. Cates managed to get away without losing his whole stack, but he is now nine out of nine coming back.
That allowed Phua to go on a victory lap around the short-deck tables, saying "Chip leader!" to anyone who would listen.
They start again at 1pm tomorrow when we'll see if he can translate the lead into his first title.
Triton London Main Event
Dates: Aug 4-6
Entries: 130 (inc. 52 re-entries)
Prize pool: £12.22 million
1 – £3.08 million
2 – £2.07 million
3 – £1.35 million
4 – £1.12 million
5 – £902,000
6 – £711,000
7 – £544,000
8 – £410,000
9 – £305,000
10 – Matthias Eibinger, Austria, £250,400
11 – Liang Xu, China, £250,400
12 – Isaac Haxton, USA, £220,000
13 – Xuan Tan, China, £220,000
14 – Sosia Jiang, New Zealand, £201,600
15 – Justin Bonomo, USA, £201,600
16 – Timothy Adams, Canada, £192,000
17 – Wiktor Malinowski, Poland, £192,000
Les Ambassadeurs is one of the most prestigious private clubs and casinos in London, with a history dating from the early 19th century. Situated in the heart of London's exclusive Mayfair district, it is formerly the favoured gambling destination of Victorian aristocracy and diplomats and is still one of the most elegant and stylish casino floors in the world.
partypoker LIVE was created in January 2017 as a global poker tour, with the aim of bringing large field, high guarantee tournaments to players all over the world. Within just 12 months the partypoker LIVE tour has grown into the world's largest ever poker tour and is guaranteeing over $70,000,000 in the 2018/2019 season.
Photography by Joe Giron/PokerPhotoArchive