The seat draw took place this afternoon for the Triton Million for Charity event, to run August 1-3 at the Park Lane Hilton, London. The buy-in is £1.05 million, with the £50,000 entry fee donated to charitable causes.
Designated recreational players will play only against other recreational players for the first six one-hour levels, while the professional players will play other professionals. The fields merge after six hours.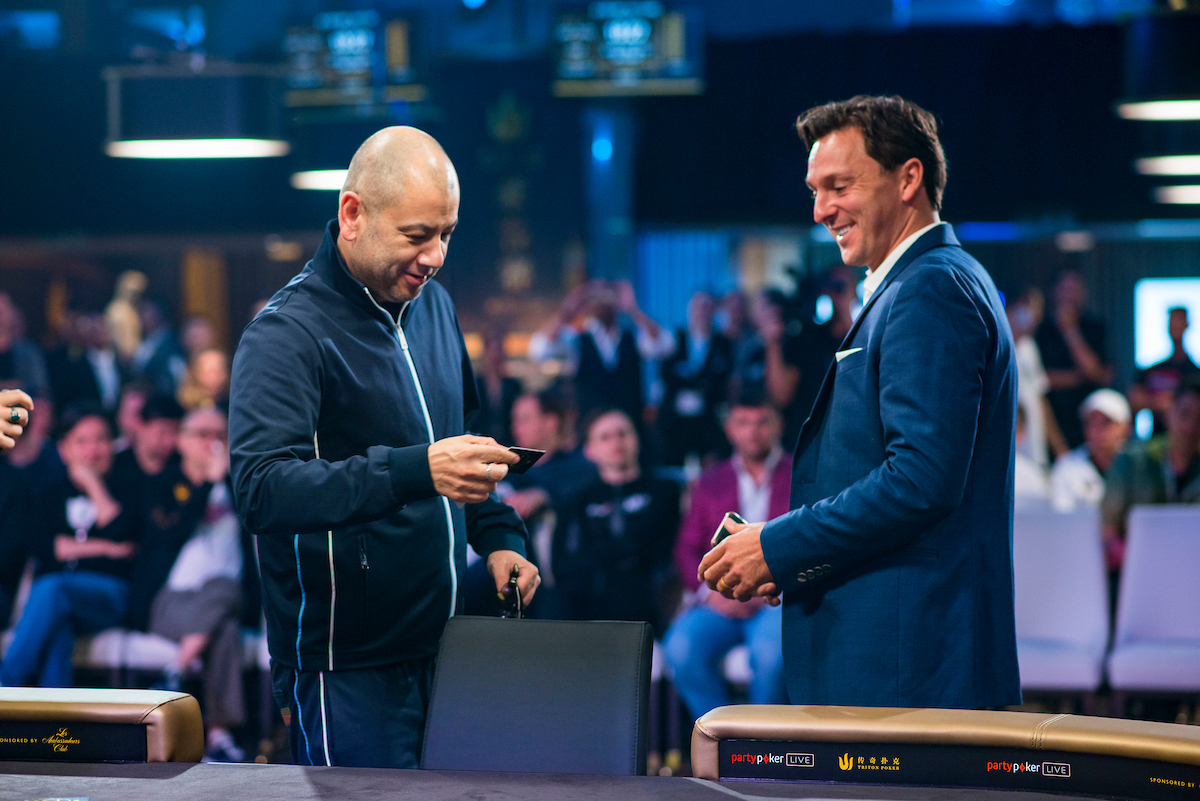 Triton Tournament Director Luca Vivaldi invited the 54 players to draw their seating assignment, with the result as follows:
TABLE 1
Seat 1 Hing Yang Chow
Seat 3 Richard Yong
Seat 6 Alfred DeCarolis
Seat 7 Rick Salomon
Seat 8 Sosia Jiang
Seat 9 Qiang Wang
Seat 10 Andrew Pantling
TABLE 2
Seat 1 Stephen Chidwick
Seat 2 Michael Soyza
Seat 3 Jason Koon
Seat 6 David Peters
Seat 7 Sam Trickett
Seat 8 Bryn Kenney
Seat 9 Matthias Eibinger
TABLE 3
Seat 1 Ferdinand Putra
Seat 2 Tony G
Seat 3 Stanley Choi
Seat 7 Pat Madden
Seat 8 Bobby Baldwin
Seat 9 Bill Perkins
Seat 10 Talal Shakerchi
TABLE 5
Seat 1 Paul Phua
Seat 2 Rob Yong
Seat 3 Leon Tsoukernik
Seat 6 Orpen Kisacikoglu
Seat 8 Winfred Yu
Seat 9 Zang Shu Nu
TABLE 6
Seat 2 Justin Bonomo
Seat 3 Dan Smith
Seat 7 Martin Kabrhel
Seat 8 Andrew Robl
Seat 9 Fedor Holz
Seat 10 Tan Xuan
TABLE 7
Seat 1 Cary Katz
Seat 2 Yu Liang
Seat 3 Wai Kin Yong
Seat 6 Ivan Leow
Seat 7 Haralabos Voulgaris
Seat 8 Wai Leong Chan
Seat 9 Benjamin Wu
TABLE 8
Seat 1 Christoph Vogelsang
Seat 2 Danny Tang
Seat 3 Rui Cao
Seat 7 Nick Petrangelo
Seat 8 Mikita Badziakouski
Seat 9 Daniel Cates
Seat 10 Sam Greenwood
TABLE 10
Seat 1 Elton Tsang
Seat 2 Timothy Adams
Seat 3 Igor Kurganov
Seat 6 Timofey Kuznetsov
Seat 7 Chin Wei Lim
Seat 9 Tom Dwan
Seat 10 Vivek Rajkumar
ABOUT OUR PARTNERS
Les Ambassadeurs is one of the most prestigious private clubs and casinos in London, with a history dating from the early 19th century. Situated in the heart of London's exclusive Mayfair district, it is formerly the favoured gambling destination of Victorian aristocracy and diplomats and is still one of the most elegant and stylish casino floors in the world.
partypoker LIVE was created in January 2017 as a global poker tour, with the aim of bringing large field, high guarantee tournaments to players all over the world. Within just 12 months the partypoker LIVE tour has grown into the world's largest ever poker tour and is guaranteeing over $70,000,000 in the 2018/2019 season.
Photography by Joe Giron/PokerPhotoArchive