Ivan Leow Wins The Triton Poker Super High Roller in Russia For $1.3m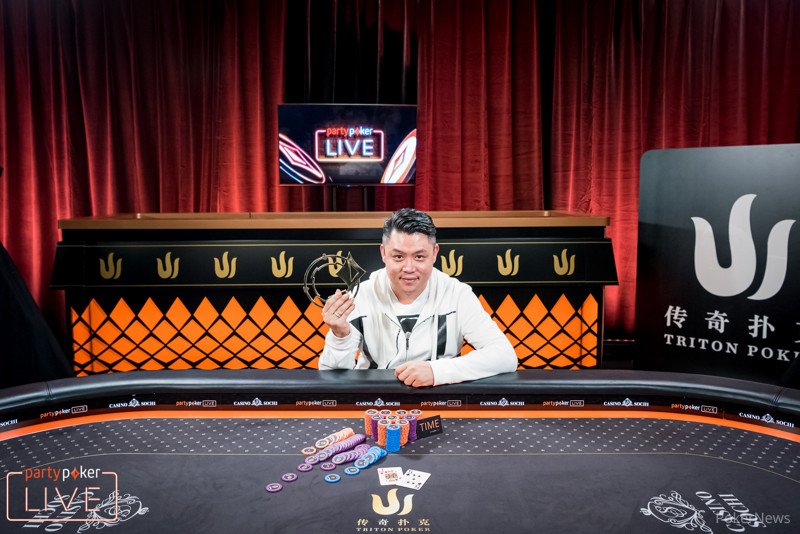 A woman barges past me in the queue. I put a firm hand on her shoulder and tell her to get the fuck. Never underestimate the power of non-verbal communication, something I have learned sitting at the poker table.
Down below there is a sculpture of a Titan throwing a javelin, and in between the rushing taxi cabs I see his great big iron balls and tackle, and wonder why it is that we see this as art and the same thing in a magazine is pornography?
I am wondering about a lot of things this morning.
Why is the aesthetic beauty so crucial to Koreans?
How do you grow rice?
Who is the best Malaysian poker player?
I don't know how Ivan Leow makes his money, but he's either very good at what he does or comes from a well to do family. The 36-year-old Malaysian who plays poker for fun has taken down the R 6,000,000 (USD 94,000) buy-in Triton Poker Super High Roller at partypoker MILLIONS Russia, iron tackle and all.
It completes an incredible couple of weeks for Leow, who made three final tables at the Triton Poker Series in Jeju, including winning the HKD 500,000 (USD 64,000) Short-Deck, Ante-Only event for HKD 8,470,000 (USD 1,079,367).
It hasn't been all cute kittens for Leow. There have been a few dead pussies in the mix. He bubbled the HKD 2,000,000 (USD 255,000) buy-in Triton Poker Jeju No-Limit Hold'em Main Event (he was in for USD 1,000,000), and he also bubbled the first event in Russia a few days back.
Things were different on this day.
A million out.
A million in.
Another day in the life of a high stakes poker player.
Let's see how Leow took it down.
How Leow Took it Down
Day 1 ended with nine players remaining from fourteen, with Manig Loeser in charge.
1. Manig Loeser – 782,000
2. Timothy Adams – 558,000
3. Phil Ivey – 517,500
4. Chin Wei Lim – 378,000
5. Abraham Passat – 337,000
6. Niall Farrell – 316,000
7. Johannes Becker – 276,000
8. Seng Ying Tang – 186,000
9. Leong Chan Wai – 158,000
Ivan Leow was one of the early birds seeking a few worms during late registration on Day 2, and he doubled through Phil Ivey 77>AQo early doors to give him a solid footing during the first ascent up the mountain he would eventually conquer.
With Leow climbing, Ivey kept slipping, this time doubling-up Koray Aldemir. Ivey held pocket jacks in a three-bet pot against the pocket queens of the German and called Aldemir's shove on the 8h7h3d3s board.
Then our soon to be crowned champion suffered a blow when his pocket kings ended up on the floor for the count of ten when all-in against the AQo of Konstantin Uspenskii. The deck spat the second ace on the flop to give the Russian the double-up.
At times the field resembled the German High Stakes Poker Championships, and one of them had an early visit to the cash desk. Johannes Becker and Wai Leong Chan got it in pre-flop. Both of them held pocket nines. However, with a split pot looming, Chan hit runner-runner-runner-runner-runner spades to eliminate the German in a bad beat story at the bar kind of way.
Becker's second bullet was a dud.
KK versus the AK of Dietrich Fast and Becker was a goner for the second time, before loading his third bullet into the chamber.
We lost Timofey Kuznetsov when the Russian moved all-in with 13 big blinds and pocket fours, only for Abraham Passet to wake up with pocket jacks. The call came and five community cards later, the Russian hit the rail. Then a 15bb shove followed the 13bb shove as Philipp Gruissem moved in holding A7cc, only to be flogged by the superior A9o of Leow.
We were down to the final two tables.
Here were the Top 5 chip counts.
1. Dietrich Fast – 1,282,000
2. Wai Leong Chan – 803,000
3. Manig Loeser – 745,000
4. Abraham Passet – 536,000
5. Wai Kin Yong – 468,000
Leow sat in ninth with 349,000.
Timothy Adams eliminated Aldemir when the pair battled it out for stacks in the blinds. Aldemir held 86dd; Adams A6ss, and ace-high held at the end of the flop, turn and river nonsense.
Becker would have to finish fourth to break even, but that seemed unlikely after losing a flip against Ivey 9999.
And then we lost Richard Yong.
Firstly, Passet's ATdd took a chunk out of Yong's stack beating pocket treys to the punch, and Loeser made it a German left and right hook when his ace trash beat pocket fours, all-in pre-flop.
Ivey doubled again, this time through Farrell KJo>33.
And then Loeser took the lead he last held at the end of Day 1.
The former Triton Poker Montenegro Main Event winner opened to 45,000 with AQdd in the first position, Fast called in the cutoff holding pocket sevens, Passet squeezed to 160,000 with KQss from the small blind, and both players called.
Flop: As6h5s
Passet c-bet 160,000, Loeser called; Fast folded.
Turn: Td
Passet moved all-in with his flush draw and gutshot, and two timebank chips later, Loeser made the call and doubled up when the 8h bricked for Passet.
Farrell eliminated Chin Wei Lin 99>66.
Ivey doubled through Leow A8dd>AQcc hitting runner-runner diamonds.
Wei Leong Chan took a chunk from Fast doubling 55>AA thanks to a five on the turn.
Then Leow made his move.
The man who plays more hands than most woke up with pocket aces at the same time Ivey made his final stand with A5o and Adams did likewise with AQo. Ivey did flop a doubler-gutter, but the outs stayed in the deck, and both Ivey and Adams hit the rail. We had a final table. Leow was the new chip leader
Final Table Chip Counts
1. Ivan Leow – 1,934,000
2. Dietrich Fast – 1,516,000
3. Manig Loeser – 1,474,000
4. Niall Farrell – 643,000
5. Abraham Passet – 639,000
6. Wai Leong Chan – 584,000
7. Paul Phua – 285,000
8. Wai Kin Yong – 173,000
First to go was the short-stacked Yong. His nine big blinds went into play holding Q9o, and Leow snaffled them up with A4o. The second smallest stack followed. Phua moved all-in in a single raised pot holding KQss on Kh7c2h, only for Loeser to call with AQhh. The flush arrived on the turn. Phua's mission ended in seventh.
Then Farrell suffered a fatal beat.
The Triple Crown winner got it in holding pocket aces against the nines of Passet, and a nine on the flop cut his heart out with a spoon. That hand left Farrell with 64k, and the rest of the table feasted on it like vampires in the very next hand.
Five players remained.
Four would be paid.
Not Fast.
The German star, who remained in the top three spots for most of the day, opened to 65,000 from the cutoff and found a caller in the shape of Leow in the small blind. Fast held two black nines. Leow had KQcc under his fingertips.
Flop: 8c3c2h
Leow checked, Fast bet 125,000, Leow called.
Turn: Qd.
Leow bet 275,000, Fast moved all-in, and Leow made the call.
River: 7s.
Fast was out.
Then we lost the Day 1 chip leader.
Leow opened to 90,000 holding A2hh. Chan called with KQhh, Loeser took a flop with JTss, and Passet took a peek with J9o. The flop was AsJh3s giving everyone a little something. Leow was first to put a chip in the pot – 125,000 of them to be precise – Chan called, Loeser check-raised to 400,000, Passet folded, Leow called, and Chan folded. The turn was the 9h, Loeser moved all-in for 1m, and Leow made the call. The 9d bricked on the river, and the top pair was kind enough to oust Loeser.
Then Leow eliminated the Triton Poker Jeju Main Event runner-up, Chan.
Leow opened to 90,000 on the button, and Chan called in the small blind. The flop was QsJh9c, Chan checked, Leow bet 125,000, Chan check-raised to 350,000; Leow called. The Ad came out of the deck on the fourth street. The money went in with Leow holding ATo for top pair and straight draw. Chan was ahead with QJo for two pairs. However, the Td on the river gave Leow a stronger two pairs, and Chan was out.
Heads-Up
1. Ivan Leow – 4,350,000
2. Abraham Passet – 2,900,000
Passet took the lead after flopping a straight on KT9, holding QJo, and Leow called holding the middle pair. Then Leow retook the lead after a series of aggressive plays, and he never lost it from that point onward.
In the final hand, the pair limped in to see a Jh4h4d flop. Passet checked to Leow who bet 150,000, and Passet moved all-in for 1,395,000; Leow called.
Leow: J5o
Passet: 62hh
Leow had flopped the two pairs, and Passet was all Tin Man seeking a heart.
The 2d gave Passet some possible boat outs, but the Qc wasn't one of them, and Leow became our champion.
The event attracted 29 entrants (20 unique, 9 re-entries).
Here are the results:
ITM Results
1. Ivan Leow – R 72,000,000 (USD 1,134,000)
2. Abraham Passet – R 47,040,000 (USD 740,880)
3. Wai Leong Chan – R 30,000,000 (USD 472,500)
4. Manig Loeser – R 8,000,000 (USD 283,500)
Leow has now earned $3,610,190 in lifetime earnings. His win in Russia was the third of his career, and his second seven-figure score (all this year).