One of online poker's biggest stars today earned his stripes in the live arena when Linus "LLinusLLove" Loeliger took down the £25,000 Triton London Six-Max Turbo, his first major title. It was worth £690,000, more than three times his total previous live earnings.
He makes an absolute ton on the online tables, mind you.
Loeliger's victory will have been cheered most enthusiastically in the online chat-boxes and poker forums, where his superlative cash-game skills have long impressed virtual railbirds. He was customarily unflustered as he parlayed his final-table chip lead into a trophy.
The tournament, which attracted 117 entries (including 44 re-entries) was originally intended to end on the opening day of this Triton London festival, but was postponed when they reached a final table. Seven players returned today, three days after they started, still technically in with a shot at the £690,000 first prize. But Loeliger was in unforgiving mood and barely gave them a chance, finding some help from the deck when he needed it too and to beating Luc Greenwood heads up.
Michael Soyza was the first man out, finding


in the small blind and action folded to him. It was plenty good enough to push in his last 17 big blinds, but Loeliger, the only player to his left, had


and made the call. Loeliger won the flip and Soyza left in seventh for £122,300.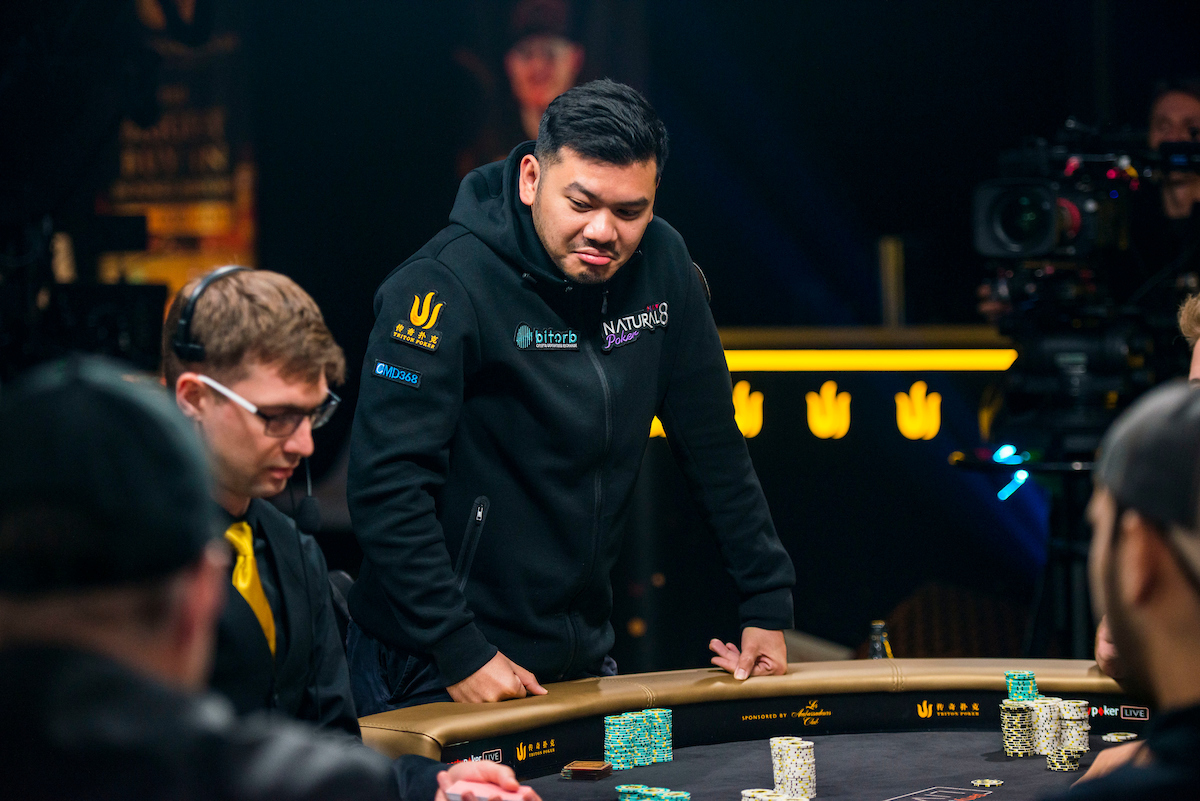 This six-handed tournament therefore reached its official final, with Loeliger way out in front. His stack of 6.9 million was 30 percent of the chips in play, but the shallowness of the event meant it was only 69 big blinds.
Kahle Burns had only six of them, but quickly managed to double through Timothy Adams. However, it was only a temporary stay of execution because when he three-bet pushed with


, he wasn't to know that Loeliger's open represented a real hand. Loeliger's


held to send Burns out in sixth, for £160,000.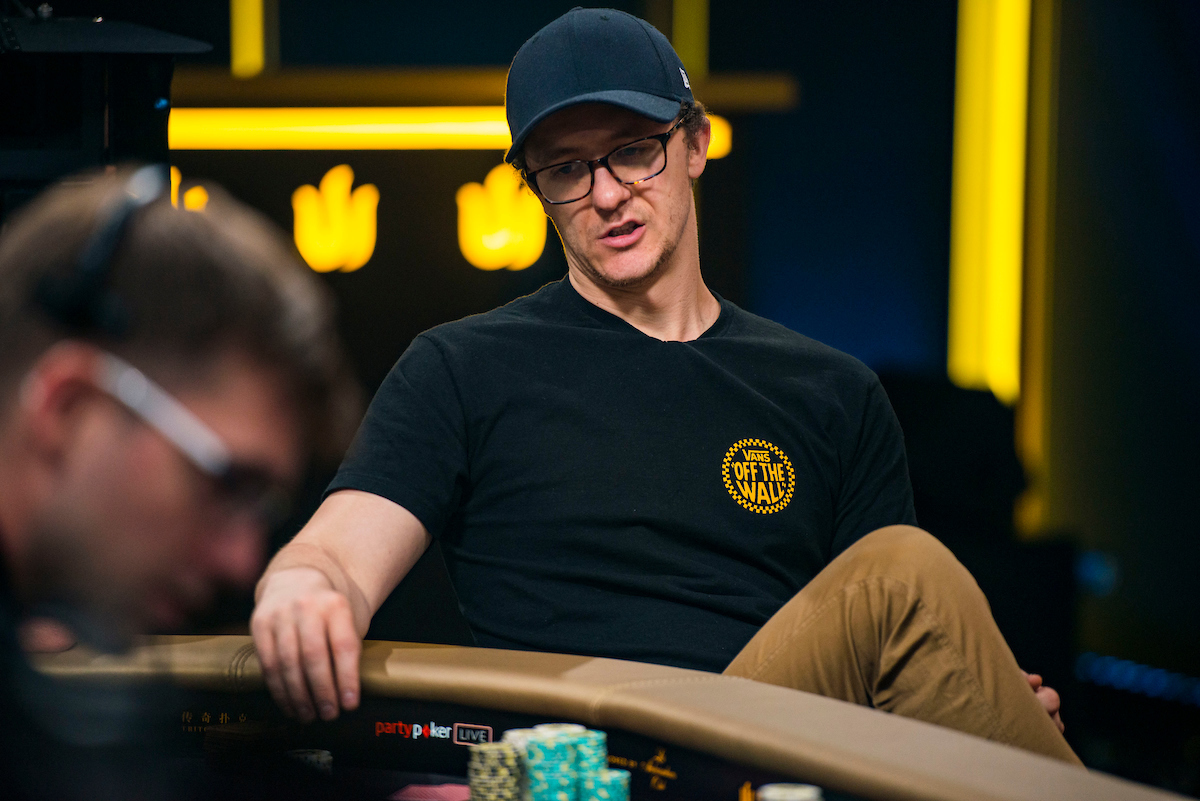 Elior Sion headed home in fifth, pushing with


on a board of



but finding Greenwood lurking with


.
Better known as "CrazyElior" online, but with significant live experience and a WSOP $50K Player's Championship bracelet, Sion was has been making his Triton debut this week in his home town. This result earned him £202,900 but leaves him seeking his first title on the tour.
Something of a short-stack specialist, Cary Katz had again managed to grind his way into the big money in this turbo event, but his run came to an end in fourth. Though he had largely kept out of harm's way, he ended up busting in one of the most entertaining pots of the week.
He got his last 16 big blinds in with


and was called by Greenwood's


— so far, so standard — but then Katz flopped a set when the dealer put the



out there.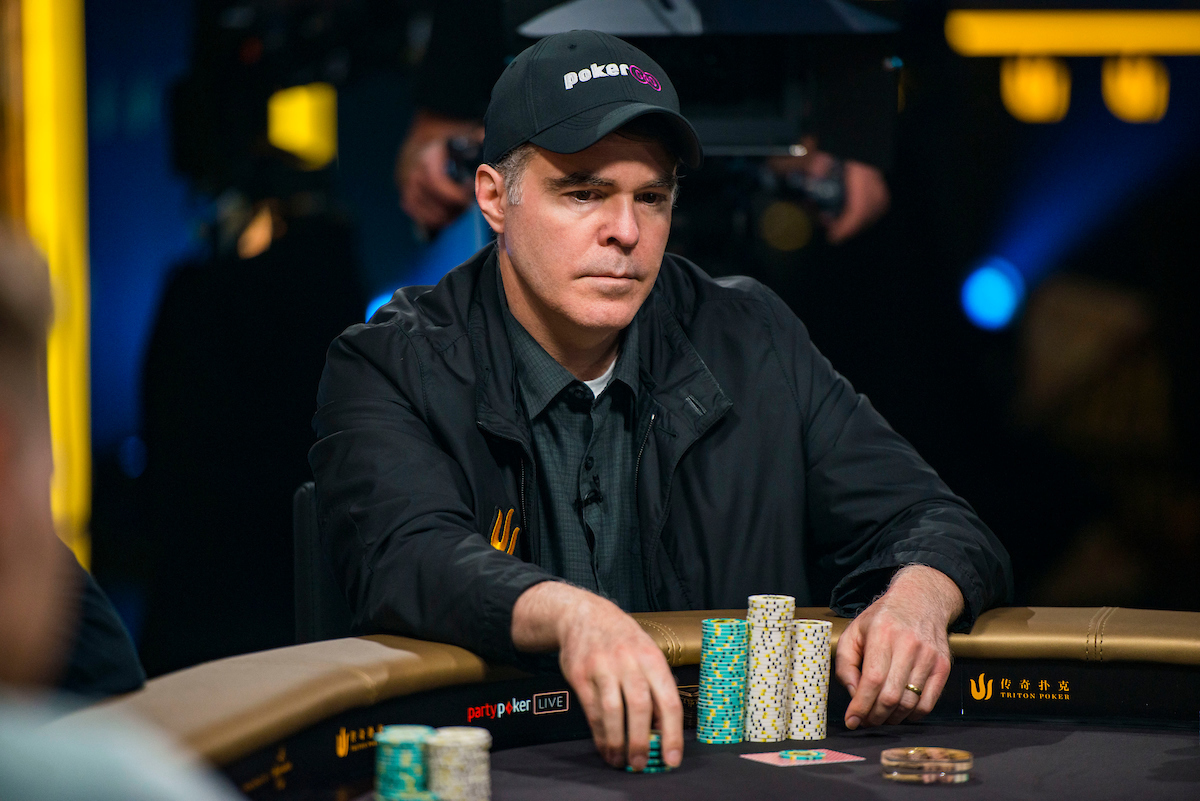 All looked good at that point, until the next card was the

. "Oh that's terrible!" Katz said. Greenwood now had 10 outs, and the dealer duly delivered the

on the river. "What the hell was that run-out?" Katz said, shaking hands and heading from the table. He took £251,500 and there were no hard feelings.
Greenwood's rush put him on top of the counts, with about 11.6 million to Loeliger's 8.5 million. (The third man, Timothy Adams, had 2.5 million.) But Loeliger hit a huge double up to flip everything back in his favour.
In what would turn out to be the tournament-defining hand, Greenwood raised his button to 500,000 with


and Loeliger called in the small blind with


. Adams also came along with his


.
There was something for everyone on the



flop and Loeliger bet 375,000 with his draw. Adams called, leaving himself only 1.8 million back, and Greenwood, with the best hand still, tried to protect it. He raised to 1.5 million.
Loeliger called, persuading Adams out, and the dealer gave Loeliger the guaranteed win with the

turn. All that remained to be seen was whether he could get the maximum.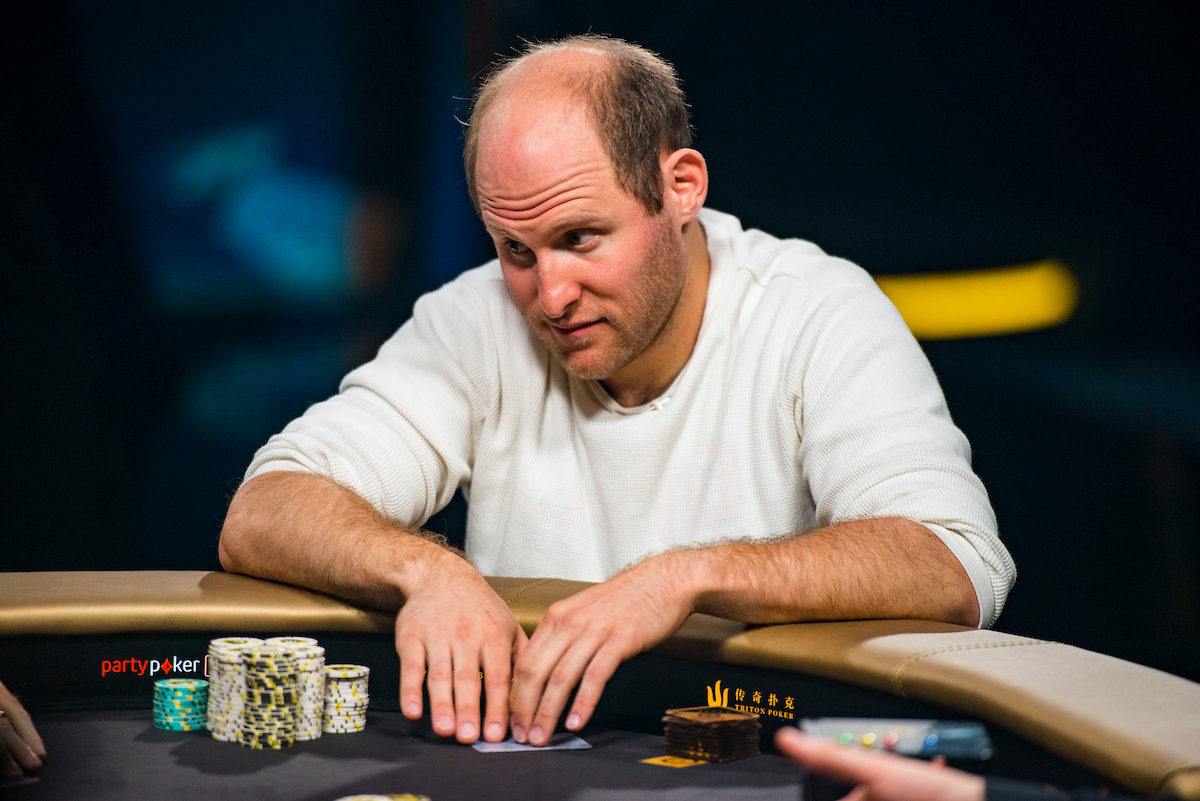 He laid the trap with a check and Greenwood bet 1.5 million, unknowing that he was only drawing to a chop, and with two of his outs in his opponent's hand. Loeliger moved in for 7.25 million and Greenwood made a clearly crying call.
It put heaps back in front of Loeliger, and left Adams and Greenwood with only seven and eight big blinds, respectively. Adams found


on the next hand, and called after Loeliger shoved with


. Adams was in a great spot to double, but having busted the £1 million charity event with pocket kings, Adams was again sent to the rail in a grim one. A five came on the flop to give Loeliger the win. Adams added yet another Triton cash, this time worth £307,000, but couldn't add to his trophy haul.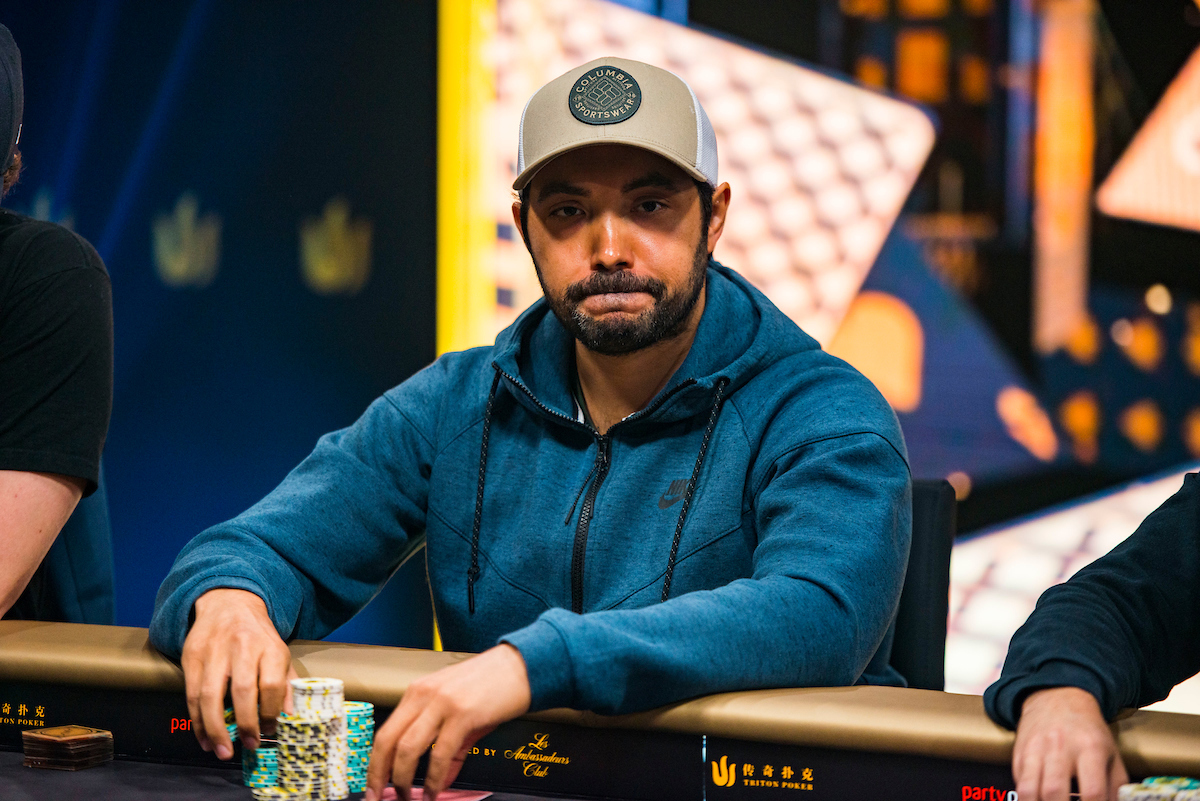 The heads-up "battle" was no such thing. It lasted one hand. Greenwood pushed with


, Loeliger called with


and nobody hit anything. It meant that Greenwood earned £466,600, but Loeliger banked £690,000 and, more importantly, his first title.
"Compared to yesterday it was pretty smooth," Loeliger said, referring to a 12-hour session in the £50K event, which ended at 4am when he was knocked out in third. "I still got seven-and-a-half hours sleep," he added. "I had to skip breakfast though."
It was the smallest of sacrifices to become a Triton champion.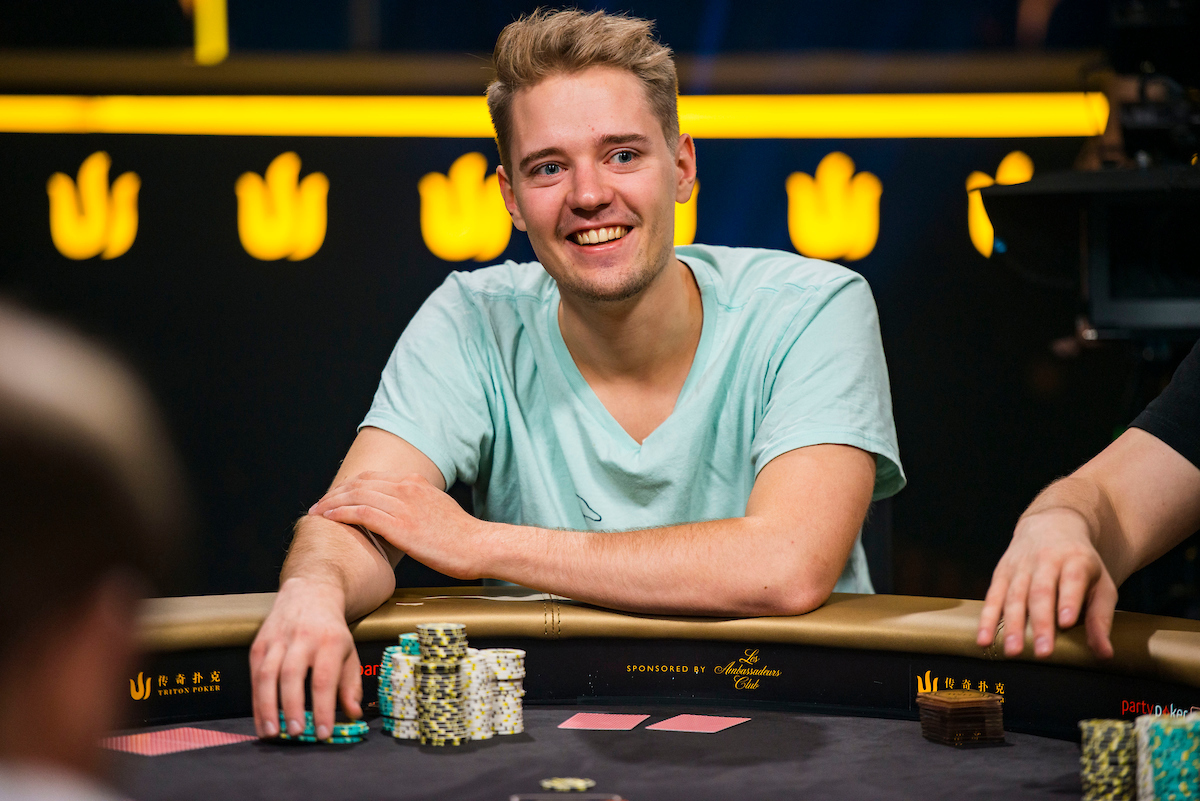 Triton London Million
Event #1 — Six-Handed Turbo
Date: July 31, 2019
Buy-in: £25,000
Entries: 117 (inc. 44 re-entries)
Prize pool: £2,749,500 ($3,359,311 approx)
1 – Linus Loeliger, Switzerland, £690,000
2 – Luc Greenwood, Canada, £466,600
3 – Timothy Adams, Canada, £307,000
4 – Cary Katz, USA, £251,500
5 – Elior Sion, UK, £202,900
6 – Kahle Burns, Australia, £160,000
7 – Michael Soyza, Malaysia, £122,300
8 – Tong Siow Choon, Malaysia, £92,100
9 – Carlston Kyle, Sweden, £68,700
10 – Orpen Kisacikoglu, Turkey, £56,300
11 – Erik Seidel, USA, £56,300
12 – Ben Lamb, USA, £49,500
13 – Paul Phua, Malaysia, £49,500
14 – Chan Wai Leong, Malaysia, £43,300
15 – Dan Smith, USA, £43,300
16 – Ben Heath, UK £43,100
17 – Patrik Antonius, Finland, £43,100
ABOUT OUR PARTNERS
Les Ambassadeurs is one of the most prestigious private clubs and casinos in London, with a history dating from the early 19th century. Situated in the heart of London's exclusive Mayfair district, it is formerly the favoured gambling destination of Victorian aristocracy and diplomats and is still one of the most elegant and stylish casino floors in the world.
partypoker LIVE was created in January 2017 as a global poker tour, with the aim of bringing large field, high guarantee tournaments to players all over the world. Within just 12 months the partypoker LIVE tour has grown into the world's largest ever poker tour and is guaranteeing over $70,000,000 in the 2018/2019 season.
Photography by Joe Giron/PokerPhotoArchive